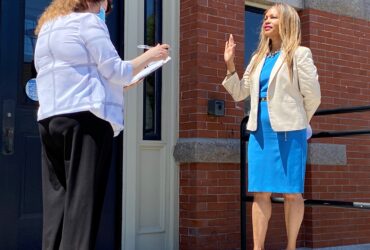 Debra Roberts, a 1979 graduate of Fontbonne University, was recently named a 2020 Commonwealth Heroine by the Massachusetts Commission on the Status of Women. The award recognizes women from across Massachusetts who perform unheralded acts that make their homes, neighborhoods, cities and towns better places to live.
"I was surprised and honored to be named a Commonwealth Heroine alongside so many other incredible women moving the state of Massachusetts forward," Roberts said.
Roberts was nominated by State Rep. Louis Kafka, who represents part of Stoughton, Massachusetts, for her work as chairperson of the Stoughton Diversity & Inclusion Organization (SDIO). Founded in 2017, the SDIO is committed to fostering an appreciation of diversity and engages in activities that promote and implement inclusiveness.
"Debra has done a phenomenal job in building the SDIO in a very short time," Kafka said. "Recognizing that Stoughton had a need for this type of community group, Deb leaped in with both feet to plan, raise awareness and become heavily involved in town-wide events. Her commitment and hard work to build a more inclusive Stoughton truly makes her a Commonwealth Heroine."
As chairperson of the SDIO, Roberts cultivates partnerships with organizations across Stoughton, including the Stoughton Clergy Association, the Stoughton Chamber of Commerce, Stoughton Public Schools and the local YMCA. She recently led a peaceful town-wide vigil in the memory of George Floyd.
"We all work together to ensure people of diverse backgrounds have a mechanism or vehicle to share diverse ideas in a peaceful manner to mitigate discrimination," Roberts said.
In her professional life, Roberts is the finance manager for the National Telecommuting Institute, a nonprofit organization that helps people with disabilities find work-at-home jobs. She also serves her community as a member of the Select Board, a five-member board of elected officials who act as Stoughton's chief policy and planning board. Roberts is the first African American elected to the position.
Originally from St. Louis, Roberts said she developed a passion for serving others at Fontbonne.
"Fontbonne gave me an opportunity to make a difference by instilling in me a commitment to service," Roberts said. "If there is a need and an underserved population, you have the ability and the obligation to help make your community a better place to live."
For Roberts, Fontbonne's small class sizes and rigorous curriculum that included both theory and practical, real-world applications were instrumental in her career development.
"I had an experience I wouldn't have gotten anywhere else because my instructors had time to spend with me to help me grow," Roberts said. "The courses I took also helped me develop and hone important skills like writing and public speaking that I use every day. I knew that when I graduated from Fontbonne, there was a bright future ahead of me."