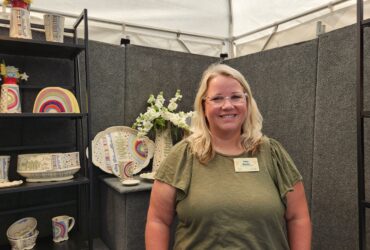 The 2023 St. Louis Art Fair exhibited the works two Fontbonne Alumni, Amy Madej, in the ceramics category and Laura Lebeda, in the drawing and pastels category.
Amy Madej, MFA
Madej began her journey as a ceramic artist as an undergraduate in college. Following a career in teaching, Madej chose to pursue a Master of Arts (MA) in ceramics at Fontbonne University in 2011. She returned to Fontbonne in 2019 to pursue a Master of Fine Arts in ceramics (MFA). At Fontbonne, Madej was encouraged by Associate Professor, Fontbonne Art Gallery Director and ceramic artist, Tony Borchardt to join the St. Louis Art Fair's Emerging Artist as Entrepreneurs program.
The Emerging Artist Program provides an opportunity for up-and-coming artists to jumpstart their careers by learning how to monetize their art and participating in the art fair industry. Artists who finish the program are exhibited during the St. Louis Art Fair.
"The program gives you all the tools you need to apply to different art fairs," Madej explained. "This year, I applied to the art fair as an independent artist, not an emerging artist. I got my work together and turned in photos of them to be juried to see if I was good enough to be at the art fair. It was exciting to see that I got in on my merit."
Madej exhibited her work at the Queenie Park Art Fair in the spring of 2022. In June 2023 she was accepted in the Prairie Village Art Fair in Kansas City. She is most proud of her participation in the St. Louis Art Fair, as Madej is a St. Louis native who has attended the event over the years.
"Last year, I got to sell my work for the first time after years of attending as a spectator," Madej said. "It was a surreal experience."
Madej's ceramic art is bright, colorful and full of symbolism. The ceramic vases and shapes Madej makes are hand-built without a pottery wheel. "I am inspired by the little imperfections in my artwork" Madej shares. "Most of my work is handmade and that represents the human touch. Those little flaws give it personality."
"When I first started ceramics, I was striving for perfection and symmetry." Madej continued, "Then I started teaching and didn't have as much time to sit at a pottery wheel and make things. So, I started hand-building." Madej believes the best part about exhibiting at art shows is making connections with people and learning how they resonate with her pieces.
"I love hearing if they're going to gift them to somebody." Madej shared, "Somebody last year said that they were going to ship one of my pieces to Italy for her father who lives there."
Check out Madej's work at amyjoypottery.com.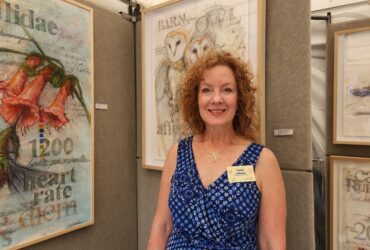 Laura Lebeda, MFA
Laura Lebeda is a full-time art teacher and professional artist. She holds a Master of Fine Art from Fontbonne University.  Lebeda's first art fair was at Queenie Park where she won an award. She has exhibited at the 2019 St. Louis Fine Art Fair, the Belleville Art Fair, the Kansas City Plaza Art Fair, and the Historic Shaw Art Fair.
Lebeda built a career as a technical illustrator and graphic designer for AT&T before making a career change to teaching. "I loved working in the corporate world," Lebeda said. "But over time it turned into being on the computer full-time and not really with our customers or clients. I missed that personal interaction."
Driven by personal interaction and connection, Lebeda pursued a career in art education.
Lebeda started going to night school to earn her certification to teach. She received her Master of Art from Fontbonne University and taught part-time at Fontbonne before working towards a Master's in Fine Art.
Lebeda teaches high school and college-level art. She has taught at Saint Louis University and currently teaches art at John Vianney High School.
Lebeda's primary medium is charcoal and pastels. "I went back to school with a focus on oil painting and figurative work," Lebeda shared. "But realized I always enjoyed drawing and mark making. I love the beauty of the line and layering, and I enjoy seeing the energy I can imbue my artwork with."
She added, "Even though I enjoyed painting, I felt like something was lost with that art form. Victor Wang let me know that drawing was valid and that I didn't have to be a painter." Victor Wang, a renowned realist painter, and a professor of art at Fontbonne is one of the reasons why Lebeda chose to further her education at Fontbonne University. Wang encouraged Lebeda to pursue her art style.
Lebeda's work often features animals and natural elements. Her marks are energetic and convey movement, giving her work a life-like feeling. "I enjoy exploring the connection between humans and nature," Lebeda shared. "I began with a pollinator series and was very interested in hummingbirds and butterflies. The more I drew, the more interested I grew in exploring nature that I came across, like a red fox or a pileated woodpecker."
After graduating with her MFA from Fontbonne in 2018, Lebeda applied to the St. Louis Art Fair and was accepted to exhibit at the 2019 fair with a series of large-scale drawings of flora and fauna. That year she received an award.
Check out Lebeda's work at laura-lebeda.com.