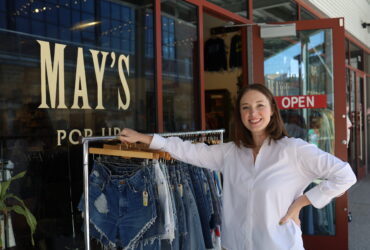 Fontbonne Alumnus Katie May is an owner of May's Place, a family-owned vintage boutique in St. Louis' City Foundry. The boutique was born out of a passion that May and her husband, Andy, had for sustainability, vintage, and antiques. May's journey began years before opening May's place. An avid thrift shopper, May worked in retail since she was 16 and decided to take her passion for style into her academic career.
After graduating from Fontbonne University in 2011 with a degree in Fashion Merchandising, May began working in corporate fashion. She soon left the corporate world after deciding it did not align with her values. "I wanted to look for something that was more values-aligned and that fueled my passion," May explained.
That's when May launched her online vintage store. Starting her own business was bumpy at first, but May and her husband, soon found a location in their neighborhood in South St. Louis City. "My husband and I went and checked it out," May recalled. "By the end of the day, we had signed a lease."
May's husband has a background in antiques, and he grew up learning to buy and sell. The Mays enjoy the thrill of hunting for vintage gems, as well as the sustainability of the practice. In 2019, May and her family moved the business from its neighborhood location to The Grove to be more customer-facing. After the location at the Grove was sold, the Mays sought out a viable location and The City Foundry seemed like the best next step.
In her 8 years of experience, May has re-homed thousands of garments, saving them from wasting in landfills. "Our slogan is Be Green Buy Vintage," May said, "There's so many incredible quality things out there whether it's furniture, housewares, or fashion. We wanted to have a sustainable option for our friends and family to shop."
May credits her experience in Fontbonne's Fashion Merchandising program for her rounded outlook on the May's Place brand. "I look at it as a holistic brand, versus just selling second-hand clothing." May shared, "My degree in fashion merchandising and the experiences that the program exposes you to by putting you in different industry situations like internships, gives you a well-rounded perspective."
May looks back fondly on her time at Fontbonne. "I really loved that the small classes made my professors easily accessible to answer questions." May recounted "I'm the type of person [who] wants to ask questions until I fully understand something and being in a smaller environment really allowed that to happen."
May's creativity extends into community building, with May's Night Market, a quarterly vendor market celebrating local businesses and foods. May launched May's night Market in 2017. The event was held every year until the Covid-19 pandemic in 2020. It picked up again in 2021.
"When we started May's night market, we hosted it at the Ready Room, which was a music venue in The Grove that was unfortunately closed during the pandemic," May recounted. The night market has endured despite the uncertainty of the pandemic, growing to new heights in its new location at the City Foundry.
"The largest location we had at the Ready room was around Seven or eight hundred attendees." May said, "The first one we had in The Foundry [included] four or five thousand [people]. It has been a huge amount of growth since we started at the new venue."
The event is a draw for local attendees and vendors, benefiting The Foundry as an entertainment destination as well as the local retailers in the space. The night market has been focused on local vendors and vintage dealers, May hopes to grow it into a national event, attracting vendors from all over the country.
"My goal at the night market is to really bring in more national vintage vendors, national artists, and jewelers, to highlight them and bring them to St. Louis." May shared. The next night market is on September 22, 2023. May is planning for over 40 vendors who will be spread out along Foundry Way.
May hopes her creative and entrepreneurial spirit will inspire her daughter."I really hope growing up in a house of entrepreneurs really shows my daughter that she can do anything." May shared, "You can really lean into what you love and see how you can make a career out of it."