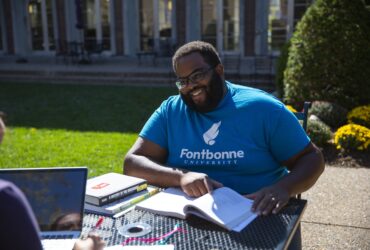 After earning two associate's degrees in General Transfer Studies and Teaching from St. Louis Community College, Darion Williams knew he needed to transfer to a four-year university in order to pursue a career in education.
Williams wanted to remain in St. Louis, so he started looking at local schools offering bachelor's degree programs in education. While working at a residential summer camp, a co-worker told him about Fontbonne University.
"I wanted and needed a school that had small class sizes so I could build a relationship with my professors," Williams said. "That is how I learn best and am most successful, so when my friend spoke about his positive experience at Fontbonne, I knew I had to look into it."
Williams applied to Fontbonne and set up a meeting with an admission counselor. During their conversation, Williams learned about the Fontbonne Community College Commitment (FCCC), a program designed to make the college enrollment process simpler and more affordable for community college students wishing to pursue a four-year degree.
Available to eligible students who have earned an associate's degree in any subject at any community college in the nation, the FCCC offers a scholarship of $12,290 per academic year, or $6,145 per semester. After the scholarship is applied, the annual tuition cost amounts to $15,000. Students are then able to apply their state, federal and loan money to continue decreasing the cost.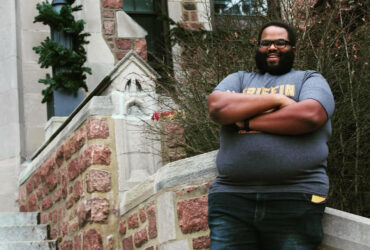 "Coupled with the university's amazing and welcoming community, the FCCC made it easy for me to choose Fontbonne," Williams said.
To apply for the FCCC, all Williams had to do was fill out a financial aid form. In November of 2018, he found out he qualified.
"The FCCC took away the stress of going into debt, as well as a lot of the uncertainty that comes with paying for college," Williams said. "It helped make it possible for me to pursue my dream and passion of teaching and working with youth."
A rising senior, Williams will graduate in May 2021 with a bachelor's degree in History and a Secondary Education Certification. He said his experience at Fontbonne has prepared him for his dream job: teaching in a St. Louis-area school district and coaching swimming and water polo.
"One of the best things about Fontbonne is how everyone goes the extra mile to help you be successful," Williams said. "The amount of respect my professors have for their students and the level of excellence they demonstrate in the classroom have given me an idea of the kind of teacher I want to be."
To learn more about the scholarships and institutional aid available for transfer students, visit https://bit.ly/3hU2qxv. Prospective transfer students can apply to Fontbonne at http://bit.ly/fbuapplication.