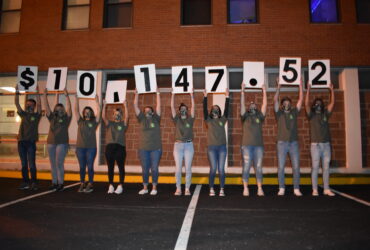 On Child Health Day Oct. 5, Fontbonne University GriffinTHON set out to raise $7,200 in one day for Children's Miracle Network Hospitals of Greater St. Louis. After just 12 hours of fundraising, they surpassed their goal by collecting more than $10,147, which is the most money the program has raised in a single day.
"This fundraising total marks a milestone in our organization's history," said Blake Klenke, junior speech-language pathology major and GriffinTHON president. "We pushed hard this year for donations, and our donors really came through and showed us what can be done when a group of students come together who are passionate about such an amazing cause."
The funds will benefit hospitalized children at SSM Health Cardinal Glennon Children's Hospital and St. Louis Children's Hospital by providing music and art therapy sessions, overnight lodging and meal vouchers for families, technology and equipment such as blood pressure cuffs and heart monitors, prescriptions and more.
To raise money, GriffinTHON organized a bagel and donut sale and a scavenger hunt where students searched for "camo clues" hidden on campus. Throughout the day, students, faculty and alumni were also encouraged to make donations online or in-person at Fontbonne. The total amount raised was revealed at 7 p.m. during a party that included a performance by DJ MiKeith, free food from Sugarfire Smoke House and games.
"By 5 p.m., I was not aware of how close we were to our goal or if we had even met it yet," Klenke said. "Being able to stand with my team who put so much effort into this day when the total was revealed was an astonishing feeling. The moment that the last number was revealed was truly the best experience I've had."
Although GriffinTHON is only five years old, the program received national recognition from Children's Miracle Network for raising the most money in its division on Child Health Day.
"Having awesome advisors, an engaged morale team and an executive board that put in countless hours behind the scenes was an integral portion of the immense success," Klenke said.