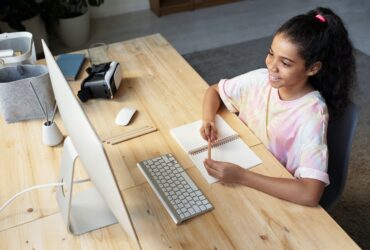 When elementary schools across St. Louis announced students would be learning fully or partially online during the fall semester as a result of the ongoing COVID-19 pandemic, faculty members at Fontbonne University saw an opportunity to make a difference.
Recognizing many parents wanted virtual education support for their children, Kelley Barger, Joanne Fish, Jami Swindell, Paula Gross and Jenna Voss, instructors in Fontbonne's Education and Special Education Department, and Denise Driscoll, Fontbonne's clinical experiences partnership coordinator, came together to create a unique program designed to supplement school-based learning.
The program offers free virtual tutoring, reading instruction and an early childhood playgroup to dozens of families in need. All instruction is conducted via Zoom.
"The program helps families who are anxious during these uncertain times," Gross said. "It personifies the Fontbonne mission of serving the dear neighbor, and the program recognizes and responds to the needs of the community."
The first of its kind in university history, the program's tutors are Fontbonne undergraduate and graduate practicum students seeking real-world teaching experience. All are supervised by Fontbonne faculty who are certified teachers and experts in child development, elementary and secondary education and reading instruction.
"It allows our students to continue with practicum requirements during this time of COVID," Fish said. "We were not allowed to go to the school where we normally tutor because of the virus, so we needed to find a way to allow our students to get this experience."
Kristina Mueller is pursuing her master's degree in education at Fontbonne and is grateful for the opportunity to participate in the virtual tutoring program.
"Being in this program now is going to benefit my career as an educator greatly because I am at the forefront of the newest way education is going," Mueller said. "No matter what happens with this pandemic, the education system is never going to be the same, and learning how to help promote virtual learning and make it less intimidating will be extremely beneficial in the future."
Allison Lawton, a senior studying elementary education at Fontbonne, also enjoys being able to provide virtual learning support to students.
"At the end of each tutoring session, my student, who is smiling from ear to ear, always ends with, 'Bye miss Allie. Thank you for teaching me,'" Lawton said. "I can tell he enjoys our time together each week, which ultimately makes me love this career even more."
Parents who were selected for the program are pleased with the support their children have received. Jill Cotton graduated from Fontbonne in 2002 and currently teaches sixth grade at Rogers Middle School in Affton, Missouri. She discovered the virtual tutoring program while scrolling through Facebook. Seeking reading support for her son who is in second grade, she immediately applied.
"My son is a reluctant reader, but he looks forward to virtual tutoring," Cotton said. "He gets excited for the stories his tutor picks out for him to read. During their first session, she asked him about his interests, and so far, she is doing a great job engaging him with activities and assignments that go with what he likes."
Clementé Love found out about the virtual tutoring program from Dr. Heather Norton, associate professor of communication studies and chair of Fontbonne's Department of English and Communication. Love graduated from Fontbonne in 2008 with a bachelor's degree in communication studies, and still keeps in touch with Dr. Norton, who was one of her favorite professors.
"I wanted additional support for my son, but reading tutors can be so expensive," Love said. "Fontbonne's program turned out to be the perfect fit. He loves all of the hands-on activities, and I like how it is highly personalized. The tutor structures the lessons around his interests, which doesn't always happen in a bigger, in-person classroom setting."
Due to high demand from parents, Fontbonne hopes to not only continue, but also grow the virtual tutoring program. According to Driscoll, more than 322 parents applied during the summer of 2020.
"We'd love to recruit more students on campus who are interested in working with these children," Driscoll said. "The parents who are receiving tutoring were extremely happy to be selected, and are appreciative we are fulfilling a community need. The more we can do, the better."