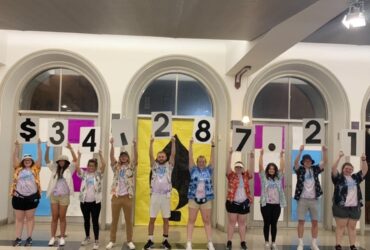 On April 10, Fontbonne University GriffinTHON set out to raise $30,000 for Children's Miracle Network Hospitals of Greater St. Louis during a 12-hour dance marathon event. At the end of the day, they surpassed their goal by collecting $34,287.21, which is the most money the program has raised since it was founded five years ago.
"I am extremely grateful to the university staff, faculty and administration who support this organization year-round," said Blake Klenke, junior speech-language pathology major and GriffinTHON president. "It was an awesome experience to see them at the event supporting our cause and helping us raise funds for the children who need it most."
The funds will benefit hospitalized children at SSM Health Cardinal Glennon Children's Hospital and St. Louis Children's Hospital by providing treatments not often covered by insurance. These include music, art and animal-assisted therapy sessions and child life services that help patients and families develop ways to cope with fear and anxiety through recreation and education.
During the dance marathon event, more than 100 Fontbonne students and alumni learned a choreographed dance line, played games, participated in fundraising activities and listened to inspirational stories from children and families who have benefited from donations.
"My favorite part was dancing the Electric Slide with Fontbonne president Dr. Nancy Blattner," Klenke said. "She was a huge part of our event by offering words of wisdom to kick off our 12-hour marathon, and our participants loved dancing with her."
Klenke believes GriffinTHON's motivation to make miracles happen for children allowed them to break multiple fundraising records this academic year despite unprecedented COVID-19 challenges.
"The moment the grand total was revealed was absolutely insane and full of screaming, jumping and lots of tears," Klenke said. "My morale and executive teams put in countless hours, early mornings and late nights to pull off this event, and their dedication to the mission of GriffinTHON definitely paid off."