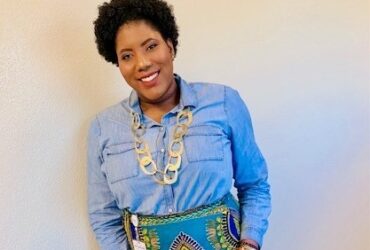 As a child growing up in a neighborhood riddled with high crime rates and poverty, Brittany Lee dreamed of making a new life for herself. Raised by grandparents who had not surpassed the fourth grade, she understood the importance of a good education and poured herself into her schoolwork. Lee believed that earning a college degree would open up a world of possibilities, and she was right.
"Like any kid, I had good days and I had bad days, but being immersed in that environment inspired me to be self-driven," Lee said. "I knew there was something else out there, and I wanted it."
In elementary school, Lee was identified as a gifted student, and she took advanced placement courses throughout high school. During her senior year, Lee accompanied her cousin on a trip to tour several college campuses, but none of them were the right fit. She didn't learn about Fontbonne until the summer after she graduated in 2004.
"One of my best friends enrolled at Fontbonne, and she was so excited about it that she encouraged me to apply, so I did, and I was accepted," Lee said. "I remember arriving to campus for my first day and thinking it was so beautiful it looked like a place you'd see in a commercial."
With the goal of becoming a graphic designer, Lee decided to pursue a bachelor's degree in fine arts, but developed an interest in business during an internship with Anheuser-Busch.
"I fell in love with the corporate world," Lee said. "My grandparents had told me throughout my life that people who worked at companies like Anheuser-Busch had made it, so I think that impacted me as well."
Soon after obtaining her fine arts degree in 2008, Lee decided to return to Fontbonne for her master of management and leadership while simultaneously working in an entry-level position at Anheuser-Busch. After finishing graduate school in 2010, Boeing hired her as a procurement coordinator. From 2010 to 2013, she served as a corporate purchasing cost analyst and a quotations specialist at Graybar Electric Supply before accepting a supply utilization coordinator job at BJC HealthCare.
"I believe attending Fontbonne laid a foundation of greatness for me," Lee said. "Having Fontbonne on my resume made me an appealing candidate to all the companies I applied to and worked at."
As Lee continued to progress in her career, she began to feel like she was not challenging herself to live up to her full potential.
"My family and I were very comfortable, but we decided that it was time for us to try something new," Lee said. "I had always encouraged my daughter to push boundaries and take risks in pursuit of her dreams, but I wasn't doing that myself."
During a performance evaluation in 2017, Lee's manager asked her where she wanted to be in a year, and she responded that her goal was to move to Arizona. Her manager warned that her decision could limit future opportunities for her at BJC, but Lee was prepared to take that chance.
"We had visited Arizona that spring and fell in love with it," Lee said. "The scenery and the people were so different from what we were used to, and I thought it would be the perfect place to get out of our comfort zones."
For weeks, she applied to 20 jobs per day before she received a call from Intel's Arizona office about a temporary role working in global supply chain. Within 30 days, she resigned from BJC, sold her home and moved across the country. After a year and a half, Lee was offered a permanent position as a supply chain analyst. She currently collaborates with commodity managers and engineers to enable the procurement of capital equipment, and was recently promoted to commodity manager.
"The opportunities here are endless," Lee said. "It's a place where you can make a name for yourself."
She is also involved in the Network of Intel African Ancestry (NIA), an employee resource group dedicated to fostering Black excellence at the company. Additionally, she provides mentorship and support for employees relocating to Arizona like she did four years ago.
"At Fontbonne, all my professors took interest in me, held me accountable and rooted for me to succeed," Lee said. "I aim to do that for others in my career."
Her advice to aspiring professionals is to remain fearless and authentic in the face of adversity.
"Sometimes there is a misconception you have to look or sound a certain way or go to a specific school to be a top candidate," Lee said. "That is not true. I've been able to show that it is possible to be yourself, make your own path and never accept limitations."