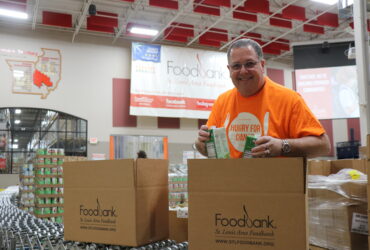 Early in his career, Tim Fetsch saw himself climbing the corporate ladder and becoming a high-profile business owner. When he was a 25-year-old student at Fontbonne, he never saw himself where he is today, serving as Chief Operating Officer (COO) of the St. Louis Area Foodbank.
After attending Truman State University for two years, Fetsch took some time off from school to start a family and work as a sales representative at Farmer Brothers Company. When he decided to return to school, he looked for a program that would allow him to keep working full-time while raising a family. He chose Fontbonne to complete his bachelor's degree in business administration.
The flexibility of Fontbonne's program allowed him to attend classes and work full-time. "I enjoyed learning in highly collaborative small groups with business leaders as my instructors," Fetsch said. "They were able to give real-life anecdotes from their business experience and apply them to the concepts we were learning in the classroom."
A couple of years after receiving his bachelor's degree, Fetsch went back to pursue his Master of Business Administration (MBA) at Fontbonne, while still working full-time.
"The strong focus on teamwork in both programs directly relates to real-world business," Fetsch said. "A group approach to solving problems is what happens every day, and I built that foundation at Fontbonne."
After a 20-year career at Farmer Brothers, where he eventually became director of operations and sales, Fetsch left for a new role as regional operations manager at Berlin Packaging. When he started, the company was approaching $250 million in annual sales. When he left eight years later to become vice president of operations at flooring supplier E.J. Welch, it was approaching $2 billion.
While at E.J. Welch, Fetsch found himself missing the food industry. Eventually, he met a recruiter who connected him to the COO position at St. Louis Area Foodbank. He is currently managing sourcing, warehouse operations and local distribution of food, hygiene items and cleaning supplies to individuals and families in eastern Missouri and southwestern Illinois. He also works with programs and agency partners to help support communities with limited or no access to food and other vital resources.
It is estimated that more than 500,000 people in the 26 counties served by the Foodbank faced food insecurity in 2020. The organization distributed enough food to provide more than 44 million meals last year and is working to create a stronger, healthier bi-state region where no one goes to bed hungry.
"My role is to cultivate and foster leaders in an effort to support our mission to eliminate food insecurity in the bi-state region," Fetsch said. "As an executive, I'm also providing more mentorship and strategic planning."
Serving as COO at the Foodbank is Fetsch's first experience at a non-profit organization. He feels like he is going back to school again to learn the non-profit world, and he could not be happier with the decision.
"After years of growing profits for companies, I'm at a place in my life where I'm ready to give back," Fetsch said.
Working at the Foodbank has been the highlight of Fetsch's career. He is most proud of his time preparing for this position, from attending Fontbonne to working with mentors to continuous professional development.
"My advice to any student in Fontbonne's MBA program is that it is worth it," Fetsch said. "There are so many questions around the value of a master's degree, but challenging your assumptions in the classroom will force you to be flexible and will make you a better professional in your career."
Fetsch said his experience at Fontbonne positioned him for opportunities throughout his life. "Over the years, I have learned to take advantage of every chance that comes along," Fetsch said. "Without question, my degrees from Fontbonne have given me the confidence and the tools I needed to have a long, successful career in business."