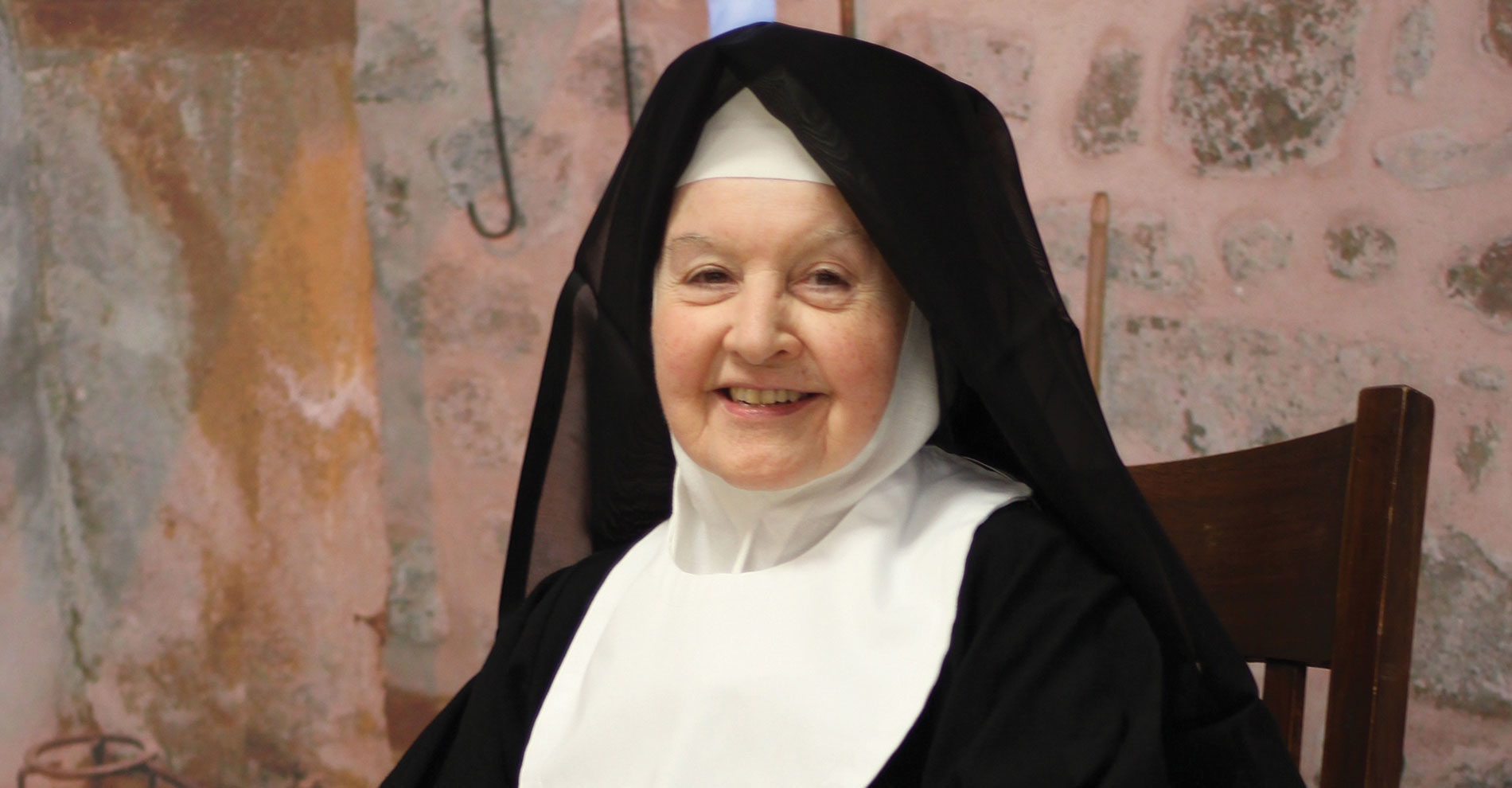 By Miriam Moynihan | Tableaux, Winter/Spring 2017
To the Fontbonne University community, Mother St. John Fontbonne is a historical and familiar figure, if in name only.
At several recent campus events, however, the foundress of the Sisters of St. Joseph has appeared in the flesh, robed in a vintage black habit and prepared to bless all those she encountered.
White linen framing her face, Sister Donna Gunn, CSJ, has portrayed Fontbonne's French namesake innumerable times beginning with a province assembly prayer meeting in 1992. She later appeared as Mother Fontbonne at a federation meeting before all the Sisters of St. Joseph in the United States.
Since then, Sr. Donna has spoken and prayed with many groups while portraying Mother St. John Fontbonne.
"It's not so much a performance," said Sr. Donna, who graduated from Fontbonne in 1961 with a Bachelor of Arts in Theater. "I downplay the fact that I'm an actress. I do a lot of praying beforehand, and I ask her to really come."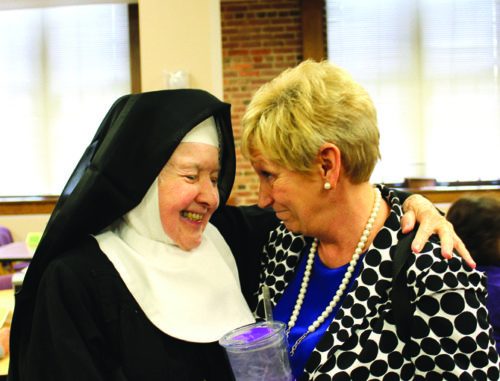 Sr. Donna is not shy about introducing herself and engaging people, as she did in October at a Fontbonne Founder's Day appearance in the Ryan Hall dining room and again at a university reception in December.
"I'm an actual nun, but I don't usually wear this habit. I usually wear street clothes," she told a group of visiting high school students as they ate lunch. She used the opening to tell them about the woman she honored with her visit, spreading love, blessings, hugs and positivity. She cradled faces in her soft hands and spoke with conviction.
"I came to tell you thank you for all that you do," she told one employee. "You are fulfilling the mission of the Sisters of St. Joseph. The blessing I give is not nearly as great as the blessing you give to us every day by your life."
The French Foundress
Telling the story of Mother St. John Fontbonne is to tell the story of her time. Born in 1759, she entered the Sisters of St. Joseph in 1778. The group was forced to disperse after the French Revolution. She and many others returned to their parents' homes, but she was arrested there, sent to prison and sentenced to death at the guillotine. She was spared only one day before she was to be killed.
Thirteen years later, Cardinal Fesch, Archbishop of Lyon, saw value in the sisters' work. He was Napoleon's uncle, and he convinced the French conqueror that the Sisters of St. Joseph could help rebuild the country after so much devastation and dire poverty.
"He felt that they could help people find their way again, especially with widows, women and children," Sr. Donna said. "There was still a strong anti-clerical feeling in France, but he thought that women religious could do a great deal to help France during that time."
The women did pick up the pieces and went on to serve the dear neighbor in France and around the world, including in St. Louis.
"We are rooted in diversity," Sr. Donna said. "In joining the sisters, the French women were going to live a life very different from the ones they had lived."
And Mother St. John Fontbonne understood the difference they could make in the world.
"She was always about possibilities," said Clare Bass, CSJ, a Fontbonne graduate student who accompanied Gunn in her lunchtime ministry. "She read the signs of the times and found oneness in continuing to serve the dear neighbor."
Living like Mother Fontbonne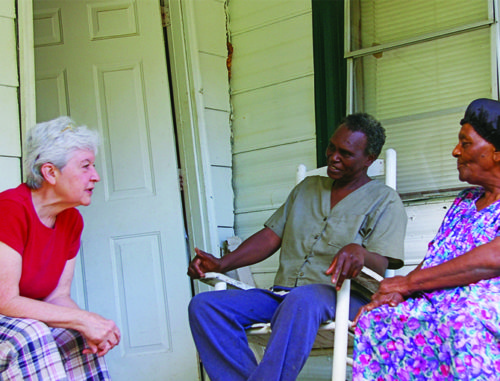 Like the character she portrays, Sr. Donna has spent her life serving the dear neighbor. After starting her education at Fontbonne, she left temporarily to make her first profession to the Sisters of St. Joseph of Carondelet, then returned to graduate in 1961. She taught at the elementary and high school levels, earned a Master of Arts from Indiana University, spent many years at St. Teresa's Academy in Kansas City and served as a faculty member at Avila College in Kansas City.
After many years in education, Sr. Donna switched focus to work with the elderly and earned a certificate in gerontology at the University of Michigan, Ann Arbor. Back in St. Louis, she opened the San Luis Apartments, a 226-unit apartment for senior citizens, owned and operated by the Cardinal Ritter Institute.
Later, she spent 18 years serving the elderly and needy in rural Mississippi. She was there during Hurricane Katrina and coordinated the disaster relief efforts for the diocese. Her hard work was recognized with the Alumnae Award from St. Elizabeth's Academy in 1995 and the Dubail-Gunn Award from St. Joseph's Hospital in 1994.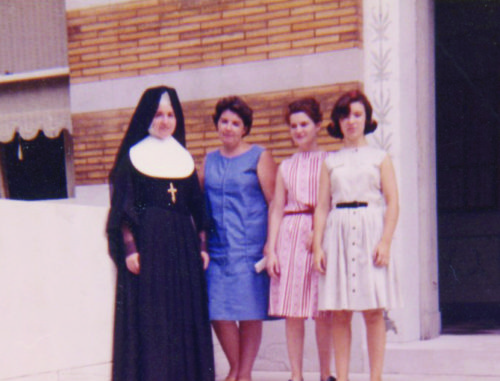 Sr. Donna maintained her connection to Fontbonne, receiving the Founders Award in 1996, and then serving on the board of trustees. Since moving back to St. Louis in 2014, she has joined some of the other Fontbonne alumnae in her family — sister Maggie Gunn Fowler '64 and sister-in-law Kate Toohey Gunn '65 — in the Fontbonne Community Connection women's giving circle. This year, she will celebrate her 60th Jubilee and is grateful to be near her extended family of CSJs and the many Gunns: her eight siblings and their spouses, 26 nieces and nephews and, at last count, 57 great nieces and nephews.
"I think often of the people I lived with in Mississippi," she said. "They were poor in material goods, but ever so rich in other ways. From them I learned to praise and thank God despite frailty, brokenness or unpleasantness that might come my way."
Through it all, the message of Mother St. John Fontbonne remains relevant.
"How proud God must be that he created you," Sr. Donna said to a group of Fontbonne board members in December. "You are a sign of his great love."
Save
Save
Save
Save