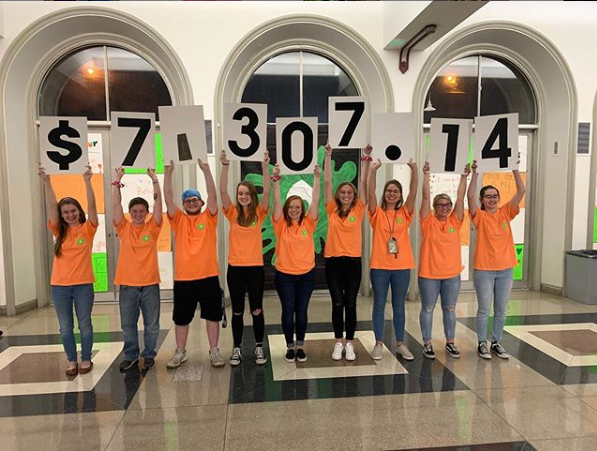 In honor of Child Health Day Oct. 7, Fontbonne's Dance Marathon team set out to raise $5,000 in one day for Children's Miracle Network Hospitals of Greater St. Louis. After 12 hours of fundraising, they surpassed their goal and collected $7,307, which is the most money the program has raised in one day in its history.
The funds will benefit hospitalized children in St. Louis by providing music and art therapy sessions, overnight lodging and meal vouchers for families, technology and equipment such as blood pressure cuffs and heart monitors, prescriptions, and more.
To raise money, the 56 students on Fontbonne's Dance Marathon team organized a campus-wide bagel, doughnut and snack sale and partnered with Noodles & Company in Brentwood, Missouri, for a profit share. Throughout the day, students, faculty and alumni were also encouraged to make donations online or in-person at Medaille Hall where they could play board games and win giveaways. The total amount raised was revealed at 9:30 p.m. during a dance party in the AMC.
"Seeing the total revealed is the most rewarding part of the day because we get to see all of our hard work pay off for such a meaningful cause," said Elizabeth Rechtien, senior and president of Fontbonne's Dance Marathon team. "It feels great to see such an amazing result after spending so much time making the day special for our campus, the kids and their families."
Joel Hermann, Director of Orientation and Student Engagement at Fontbonne, has been working with the Dance Marathon team since it was founded four years ago. He attributes the success of this year's Child Health Day fundraiser to teamwork.
"Over the last four years, this team has developed a deep sense of camaraderie that helped them knock this event out of the park," Hermann said. "During the last 30 minutes of the fundraiser, Elizabeth got on the microphone at the dance party and asked everyone to bring in just $25 more. We ended up earning $600 in that short period of time, all because the team came together for the cause."