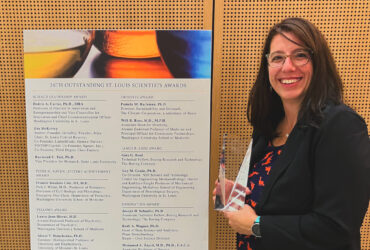 Dr. Kelly Lane-deGraaf: A Distinguished Educator
Fontbonne is excited to congratulate Dr. Kelly Lane-deGraaf, assistant professor and chair of Fontbonne's biological and behavioral science department on winning the St. Louis Academy of Science's Outstanding Scientist Award in the category of Science Educator. Lane-deGraaf received the award for her work with undergraduates on the population genetics and disease ecology of urban raccoons and students' independent research questions.
"The St. Louis Academy of Science is a fantastic organization that connects scientists and the community and supports numerous opportunities for scientists and students to work together." Lane-deGraaf said, "I suspect that many people outside of science circles don't necessarily realize that St. Louis is home to many amazing scientists."
The Science Educator Award recognizes a distinguished individual who has made outstanding contributions to science education or the public understanding of science, engineering, or technology. "It is a huge honor to be recognized by the Academy and by my peer scientists for my work," Lane-deGraaf shared. "I am profoundly grateful to receive this award on behalf of all the students who have worked in my lab over the years."
Research and Advocacy
Lane-deGraaf has engaged with students of various levels, undergraduates, middle school girls, and community members. She developed the Fontbonne University senior capstone course in the sciences, enabling subsequent students graduating with a degree in Biology to do so with co-author credits on manuscripts in review.
"My approach to working with students is to encourage them to identify their research interest," Lane-deGraaf said. "This culminates in senior capstone projects that answer interesting, publishable questions. Students in my lab have worked on quite varied projects from evaluating the impact of BPA on snail fertility and fecundity to […] understanding why women undergraduates leave science."
Her research on the population genetics and disease ecology of urban raccoons was the largest research project conducted in her lab. The project mentored numerous undergraduate students in bench and field research experiences in disease ecology, where her work uncovered how institutional racism has shaped the urban wildlife raccoon populations. 
Lane-deGraaf and colleagues Drs. Sharon Deem and Elizabeth Rachel recently published an undergraduate textbook, An Introduction to One Health: An Interdisciplinary Approach to Planetary Health. 
Lane-deGraaf is an advocate for women's involvement in science. She created 'Girls in Science', a free science research program for middle school girls' program that has reached more than 200 middle school girls in the last five years and provides chemistry, biology, physics, and ecology. This year saw the ninth iteration of the program. The young students arrive on the Fontbonne campus to engage with scientists, perform research, and meet other middle schoolers from the St. Louis area. Lane-deGraaf believes anyone interested in science should just get started.
"I would encourage anyone interested in science to find something they are fascinated by and begin reading deeply," she shared. "My research has taken me all over the world and allowed me to work with researchers and communities in each of the unique places I have been. Science is about trial and error and learning from mistakes."
 Making an Impact at Fontbonne and Beyond
 Lane-deGraaf has seen her fair share of research challenges over the years. 
 "I've worked with long-tailed macaques in Southeast Asia, African buffalo in South Africa, several species of bats in central Missouri, black-tailed prairie dogs in Colorado, among others, and now urban raccoons and opossums in St. Louis City and County." Lane-deGraaf shares "Each of these systems has presented interesting challenges – sample importation issues, permitting struggles, monkeys stealing samples, opossums that won't leave traps, lions eating your study organism, etc. Consistently, though, the largest and most rewarding challenge has been finding ways to make the work we do accessible to folks regardless of their personal, professional, or educational background."
The St. Louis Academy of Science's Educator Award speaks to Lane-deGraaf's dedication to making science accessible to individuals of all backgrounds.
"To be recognized by my peers in this way is genuinely an honor," Lane-deGraaf said. "More broadly speaking, this award demonstrates that the work we are doing here at Fontbonne – in my lab and the Department of Biological and Behavioral Sciences – is effective and impactful in terms of training future scientists and scientifically minded physicians, veterinarians, educators, and policymakers."