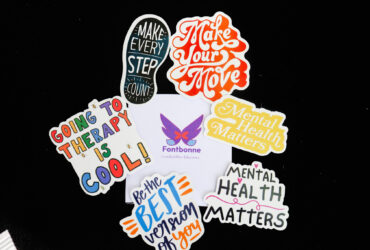 World Mental Health Day: A Global Initiative for Awareness
October 10 marks World Mental Health Day, an international global mental health awareness and education day. First celebrated in 1992, World Mental Health Day is an initiative of the World Federation for Mental Health (WFMH). The WFMH is an international membership organization founded in 1948 to advance awareness and proper treatment and care of those with mental and emotional disorders. This year's theme, "Mental Health is a Universal Human Right" was chosen by a global vote open to the public.
Breaking the Silence: The Urgent Need to Address Mental Health Stigma
Mental health discrimination, harmful stereotypes, and community stigma surround people with mental health issues, despite efforts of various international bodies such as The United Nations, The World Health Organization, and WFMH. The issue of Mental health discrimination is important because of the prevalence of mental health illness in the larger population.
In 2021, 1 in 5 adults in the United States– about 57.8 million people– experience mental health illness. Despite the prevalence of mental health illnesses and disorders, there remains little education on the nature of the illnesses, a problem that contributes to the stigma.
These mental illnesses vary in degree of severity. Mental health conditions can be categorized into two broad groups: Any Mental Illness (AMI) and Serious Mental Illness (SMI). AMI is characterized as any mental, behavioral, or emotional disorder and includes all recognized mental disorders. Its severity can range from none to mild, moderate, or severe impairment. Young adults aged 18-25 years had the highest prevalence of AMI at 33.7%. SMI refers to a mental, behavioral, or emotional problem that causes serious functional impairment and materially limits or interferes with one or more important living activities. Young adults aged 18-25 years also had the highest prevalence of SMI at 11.4%, compared to adults aged 26-49 years at 7.1%.
Fontbonne's Dedication to Student and Staff Well-being
At Fontbonne University, we understand that our students, faculty, and staff face a variety of demands. Students juggle school, work, family, and social life, and other concerns like stress, loss or depression can make higher education more challenging. Fontbonne promotes self-care and mental health awareness, year-round. On September 20, the Fontbonne community gathered for its Mental Health and Wellness Fair to learn about on and off-campus resources for mental wellness. The National Alliance on Mental Illness, St. Louis (NAMI St. Louis) attended the fair, providing students and staff with free mental health resources.
Fontbonne's Peer Education Club was also in attendance. The peer education program is a health promotion approach that involves delivering social learning and psychological support to peers. Peer educators are trained and certified to provide their peers with support and to escalate cases to the appropriate channels when necessary. Peer educators also provide support and connect their peers to resources where they can get further help. The counselors at Fontbonne offer short-term professional counseling to students, by providing support in dealing with a variety of mental health issues and concerns. They also provide resources for longer-term care. Fontbonne's Employee Assistance Program provides employees with free assistance resources and counselor sessions.
As part of the general academic structure at Fontbonne, few classes are held on Fridays, giving students more time to recuperate and recover from the week. Self-care education is woven into our more rigorous programs such as the bachelor's in nursing (BSN) and the bachelor's in Social Work, where young nurses in training and future social workers are taught to recognize signs of burnout and how to be emotionally in touch with themselves.
 Join the Movement: Spreading Mental Health Awareness
Mental Health is a basic human right and Fontbonne is dedicated to doing its part to raise awareness. Here are some ways you can help spread awareness and take care of your own mental health.
Talk about mental health issues openly: Living with a mental health disorder can be challenging. Promoting open dialogue about mental health can encourage people suffering from these conditions to seek help and can eliminate the stigma they face in public life.
Educate yourself and others on the symptoms of mental illness: Many people who suffer from mental health disorders refuse to ask for help for a variety of reasons. Some do not understand what they are experiencing, and others fear stigma for community members. Education can help people with mental health disorders seek help and give their loved ones tools to support them.
Participate or volunteer in awareness events in your community: Participating in an awareness community can help spread the word about mental health resources and support. Volunteering is also a great way to build community, a practice that can help you and others feel connected, safe, and less likely to suffer from issues such as stress, anxiety, and depression.
Take regular breaks to rest and rejuvenate: School, work, and family can be all-encompassing, leaving very little time to be in touch with our feelings and stress levels. Find out what resources exist at work and school that allows you to take restive breaks when you need them. Talk with family members, when possible, to plan out times when you could each take a break from some stressful responsibilities.
You are Not Alone: Seeking Help and Support
If you or someone you know is suffering from mental health issues, it is important to remember that you are not alone. There are resources and organizations to help you get through a mental health crisis.
Some resources in the St. Louis Area include:
Mental Health Centers and Crisis Hotlines
Amanda Luckett Murphy Hopewell Center
The Saint Louis University Center for Counseling and Family Therapy
If you are having a mental health crisis, please know that you're not alone. You can call the National Suicide Prevention lifeline 24 hours a day and talk to someone who will help you.
Call 988 or 1-800-273-8255