On Tuesday, November 14, Fontbonne's International Bazaar brought the tastes, sounds, and sights from countries around the world to the campus. Held at Fontbonne's Arnold Memorial Center, the packed event featured food from several countries and regions, including China, Japan, Jamaica, India, Vietnam, Mexico, and the Balkan region. The event was hosted by FISA (Fontbonne International Student Alliance) and Multicultural Affairs and is one of the ways Fontbonne University strives to create a global perspective for its students and embrace the diversity of its community.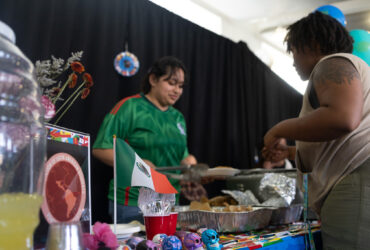 Students lined up to receive Henna body art and face paint, whose origins include India, the Mediterranean and the Middle East. Students were also treated to a medley of West African dances performed by the Spirit of Angela West African Dance and Drum troupe. Members of FISA, such as FISA President and Fontbonne junior Airi Murata, shared aspects of their culture at their tables. Murata is from Japan and shared ornate origami crafts at her table, as well as sushi and sushi rolls. At the Mexican table, junior Perla Zaragoza treated students, faculty, and staff to Tamales and Chicharrónes. The Jamaican table served jerk chicken and rice, and at the Balkan table, freshman Muhammad Bobaj served Gulas – a Balkan-style Goulash, Burek, and Sirnica.
Bobaj shared, "This is food from my childhood. It is food that is close to my heart, and I thought it would be great to share. An event like this one is about sharing who you are and helping people see new perspectives."
A child of first-generation Bosnian immigrant parents, Bobaj says his family traces its lineage from many countries in the Balkan region, including Albania and Croatia. "I couldn't bring food from just one region of the Balkans," Bobaj shares. "I thought it was important to showcase our shared culture." Along with Balkan dishes, Bobaj's table featured culturally significant memorabilia from his childhood and his country, including his grandmother's scarf, a Qeleshe – a traditional Albanian hat, an Albanian flag, and other items.
"I think it is very important to share our diversity through events like this. Everything on this table is important to me and my culture," Bobaj said. "Everyone should get to show who they are in this way. Bobaj found some similarities between his culture and those of the West African dancers from the Spirit of Angela West African Dance and Drum troupe. Bobaj added, "I loved watching the performers. The energy of the dance reminds me of the traditional dances in the Balkans."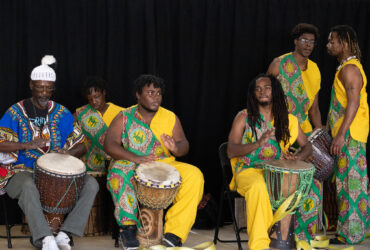 Senior, Hailey Shuman saw the bazaar as the opportunity to take a trip around the world without leaving the Fontbonne campus. "The event feels like a global tour," Shuman shared, "I appreciate all the options of food from all over the world; usually, I am a picky eater, but this allowed me to expand my palate."
Junior, Annie McPhee especially enjoyed the performance by the Spirit of Angela troupe. "The entertainment is amazing," she said, "Seeing all the different dances is very exciting." McPhee shared her favorite dishes from the event. "I loved trying the tamale, sushi, fried rice, prawn crackers, and the jerked chicken."
Shuman shared the importance of events like the International Bazaar to cultural competence at Fontbonne and beyond, noting that she would like to invite people to share their diverse backgrounds wherever she goes. "If I am ever in a workplace," Shuman shared, "I would like to take this experience and replicate it."