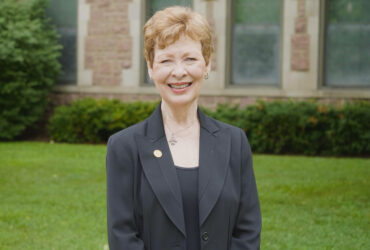 Karen Gedera graduated from Fontbonne University in 1965 with a mathematics degree. After a long career with Boeing and managing her own consulting business, Gedera became increasingly involved with Fontbonne. In May of 2020, she became the first female and alumna to serve as chair of Fontbonne's Board of Trustees. We recently sat down with Gedera to learn more about her career and passion for Fontbonne.
Q: How did you come across the opportunity to become chair of Fontbonne's Board of Trustees?
After I graduated from Fontbonne, I had a terrific career with Boeing. Around the same time that I was retiring, we had our fortieth reunion at Fontbonne. I had not gone to any other reunions, but my friend was receiving an award, so I decided to go to support her. Seeing Fontbonne after all those years made me think, "Wow, this is still here, and it is still a really neat place."
After that, things started falling into place that eventually led me to my position as board chair. A group of women I knew formed the Fontbonne Community Connection (FCC) in order to support the university, and they asked me to join. I ended up serving as chair of the FCC for three years. During that time, I was also invited to be on Fontbonne's Council of Regents. I was a part of that organization for more than nine years, and I served as its chair for four of them. In 2016, I was elected to Fontbonne's Board of Trustees.
Q: What made you interested in becoming chair of the Board of Trustees?
I feel strongly about the importance of education in improving society, so I thought this opportunity was the perfect way for me to advance and support that belief. Also, the longer you spend at Fontbonne, the more you recognize what a special place it is and how privileged its students are to be able to attend. I want more people to have the opportunity to be a part of this community.
Q: Can you tell me a bit about what your position entails?
I oversee the Fontbonne's Board of Trustees, which has oversight responsibility of the university. Part of my job is to ensure we recruit board members who represent a variety of areas of expertise as well as different parts of the community. I also help populate the board's committees and make sure they oversee the facets of the university they are responsible for. One of the most important things I do is regularly communicate with Fontbonne's president, Dr. Nancy Blattner.
Q: What are some of your goals as board chair?
One of my primary goals is to celebrate Fontbonne's 100-year anniversary in 2023. By the time we reach that milestone, I want to make sure Fontbonne is set to thrive for the next 100 years. It is important for us to ensure we can continue providing valuable personal attention to our students and help as many students as possible achieve their dream of obtaining a college education by remaining affordable.
Q: You are the first woman to hold the board chair position. What does that mean to you?
I like to remind people that I might be the first female chair of Fontbonne's Board of Trustees, but they should not forget the Sisters of St. Joseph of Carondelet. Until the 1970s, the Sisters operated Fontbonne. Although they did not call themselves board chairs, they had the same roles and responsibilities. I view this position as a continuation of their legacy.
I was also the first woman to serve in many of the managerial roles at Boeing. As I advanced in my career, I became more aware of the importance of role models, so I strive to be one for others.
Q: You mentioned you are also a Fontbonne alumna. How did your experience at Fontbonne prepare you for success in your post-graduate life?
From a career standpoint, Fontbonne is where I learned to be confident in myself. When I started my position at Boeing, I knew I could hold my own. I was never afraid to speak my mind, and that made a difference. Fontbonne also helped me grow by fostering an understanding and commitment to my faith. Fontbonne's intimate environment and strong support system nurtured me into the person I have become.