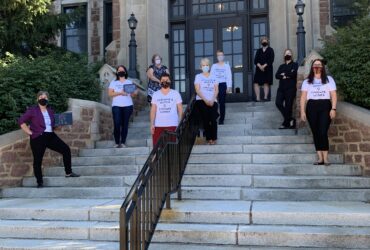 The first cohort of students enrolled in Fontbonne's flagship doctoral program, an Ed.D in Collaborative High Impact Instruction, will graduate in May 2021 after completing their dissertation hours that begin this fall. The Ed.D. is a 51-hour program that most students complete in three years. It is designed to support leaders in a variety of fields interested in deepening and expanding their practice. The five members of Fontbonne's first cohort began their studies in the summer of 2018.
"This program propels students to their next career goal," said Jamie Doronkin, Fontbonne's Director of Ed.D. in Collaborative High Impact Instruction. "Whether students want to become a university professor or an entrepreneur, we support their diverse interests and goals. Students can use their passion to soar higher in their careers through this degree."
The design of Fontbonne's unique and intensive program is based on the Carnegie Project for the Education Doctorate (CPED) and utilizes a cohort model, with new students entering in groups of 10–12 annually and continuing together for three years to ensure a high degree of collaboration and camaraderie. Students begin the program by identifying a problem that requires a new approach or resolution. They spend the next three years researching the problem and developing an organizational improvement plan as part of their dissertation.
For more information about Fontbonne's Ed.D. in Collaborative High Impact Instruction, visit https://bit.ly/3ghD62h.