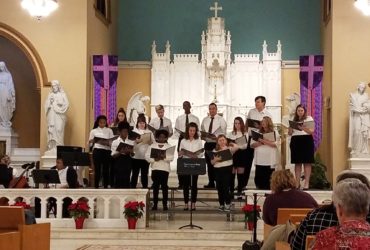 Nick Moramarco is thrilled to be a part of the burgeoning music program at Fontbonne University. The new music instructor has numerous years of experience teaching music and theatre to all ages, including more than 20 years of experience in Catholic parishes.
"Everyone I've met has been so welcoming, especially my new colleagues in the department of fine and performing arts," said Moramarco, who has a home in Fontbonne's College of Arts and Sciences.
Already, Moramarco is filling Fontbonne's campus with music, expanding efforts set in motion over the past few years. These include a choir, band and opportunities to bring music performance onto campus in new ways.
The campus choir includes a core group of 22 committed students who perform concerts and liturgies and make appearances to sing at other campus events. The band currently includes a drummer, keyboardist, two saxophones, a clarinet, two guitars and a cello. Both groups performed their first concert together during the 2018 holidays.
Fontbonne currently offers several music courses for students and, in a few years, Moramarco hopes to develop a minor in music. In addition, Moramarco is in the process of developing campus liturgies during campus Mass, offered most Wednesdays and Sundays.
"We have Mass almost every Sunday at 7 p.m. I plan the music, and we rotate through music leaders: Dr. Pressimone and our students will also share this role," said Moramarco.
In early 2019, Fontbonne University hosted the Archdiocesan High School Music Festival, an all-day event that included performances and workshops.
Look for additional opportunities to enjoy music on campus this spring.