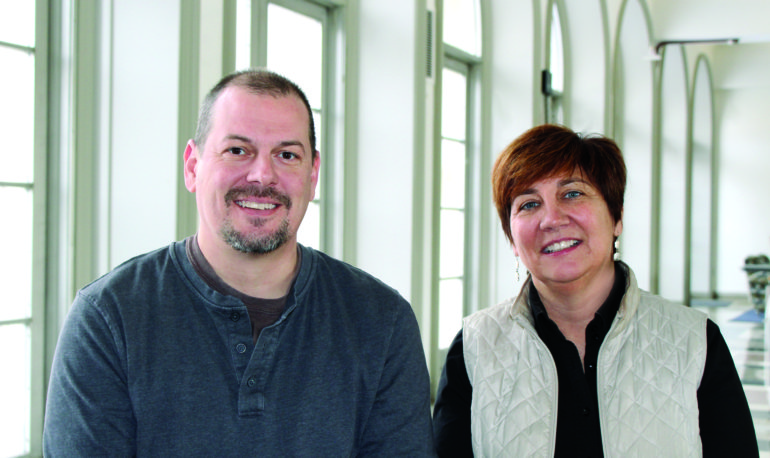 Anthony Borchardt '00, MA '01, MFA '02 (left), assistant professor of fine arts, was named the 2018 Joan Goostree Stevens Excellence in Teaching Award Winner. Jan Johnson '08, MS '10, MM '12, MBA '14, director of grant support for the department of communication disorders and deaf education, was honored with the 2018 Excellence in Teaching Award for Part-Time Faculty. These dynamic instructors — both alumni — traveled very different paths to become educators, and each has a unique passion for their students and for Fontbonne. Read their stories in full below.
---
The Influencer
When Tony Borchardt first took a seasonal job as a potter at Silver Dollar City in Branson, Mo., he could only make four mugs per hour. By the time he left the theme park five years later, he was throwing a mug per minute. The job may have not been the most creative, but it taught him some significant lessons as an artist — namely that discipline and skill will make a profound difference to your craft.
"No excuses," he explained. "Do the work. Get it done. Be successful. Artists don't have an easy path. That job gave me the skills I needed to succeed."
Borchardt, who earned a Master of Fine Arts degree from Fontbonne University in 2002, was, content as a working artist for many years, creating his high-end, functional pottery and selling it at art shows around the country. But travel took its toll, and seven years ago, he decided to focus on teaching.
The former student returned to his alma mater in 2016 as a ceramics instructor. Three years later, he continues in that role full time, serving also as the director of Fontbonne's Fine Arts Gallery. He was honored this past year with the university's 2018 Joan Goostree Stevens Excellence in Teaching Award, the highest recognition Fontbonne bestows on faculty members. Soon after, he was awarded a 2018 Emerson Excellence in Teaching Award, honoring his accomplishments and steadfast dedication to the teaching profession.
"It was unexpected," he said of the award. "I really didn't see it coming."
His students and colleagues would disagree. Borchardt has been working long hours to bolster the name recognition of both Fontbonne's fine arts department and gallery. He brings in local exhibits and national names not only to give students exposure to current art and artists, but to make the Fine Arts Gallery a destination in the St. Louis art scene. This year for the first time, Fontbonne's full-time fine arts instructors, Borchardt included, presented a faculty exhibition in alongside a series of artist talks. Borchardt is driving the department's focused effort to reach out to the Fontbonne community, as well as the greater St. Louis community, celebrating and promoting their reputation as an exceptional art program.
"There's a lot of excitement around the department," he said. "How can we rebrand and rebuild? I know I'm coming in as the young guy, but I take on that roll willingly — I want to pump a lot of energy into the program."
As an artist, Borchardt understands the importance of a thorough program, caring faculty and a supportive environment. His experiences making and selling his work explains how he interacts with and influences Fontbonne students.
"Being a student helped me become a teacher."
---
Brand Ambassador
Five days before her high school graduation, Jan Johnson learned that her father had passed away. In the last conversation she had with him, he reminded her that he would see her at her commencement ceremony — and that he'd be there to see her graduate from college too.
But after his death, Johnson, as the oldest of nine siblings, knew that college was no longer an option. Her mother packed the family up and moved them from Amarillo, Texas, back to her hometown of St. Louis. In order to pay their bills, Johnson worked the breakfast shift at a local McDonald's, then went home to change places with her mother, who waitressed during the afternoon shift at Famous-Barr.
Johnson, now director of grant support within Fontbonne University's College of Education and Allied Health Professions, eventually married and had four daughters. A divorce forced her to consider the future; she was determined to give her girls the opportunity a college education could provide. So she decided to make a career switch.
"My plan was to get a job at a college, make friends with people there, and then start asking questions: How do you apply for admission? How do you apply for financial aid? How do you register for classes?" she said.
She received a tip from a member of her parish, who worked in the registrar's office at the time. Would she be interested in working for Fontbonne?
"Yes," Johnson remembers saying. "Where's Fontbonne?"
As she settled into her new role as coordinator of student records, Johnson began to realize that without at least a little college experience under her belt, she could hardly expect her daughters to earn their degrees. She decided to take a few classes.
"I had no intention of going to school for myself," she said. "I thought it was unfair to put expectations on them, so I decided to show them that it could be done.
She earned an A in her first course, surprising herself. So she took another class. Then another. Soon, for the woman who thought she might never earn a degree, higher education was back on the table. Johnson discovered that not only did she enjoy college, she wanted to teach college, specifically at Fontbonne, a school and a community she had grown to love. In 2008, she earned her Bachelor of Arts in Contemporary Studies, fulfilling her father's prediction that she would graduate from college. By 2014, she had earned three master's degrees, all while continuing to work full-time at the university. Today, she manages grants and scholarships, as well as the students who benefit from them within the College of Education and Allied Health Professions. And she has begun working toward her Doctorate of Education in Collaborative High Impact Instruction, Fontbonne's first-ever doctoral program. In her free time, she teaches a class or two each semester.
Johnson loves what she does, and she loves the place that made it happen.
"It burns inside of me to take what I learned and give it back to Fontbonne. The people here took a chance on us," she said.
Members of the campus community — including her students — recognize her passion and her boundless positivity. She was awarded with the 2018 Excellence in Teaching Award for Part-Time Faculty.
"I was floored," said Johnson, who was nominated for the award last year as well. "It felt different this time. When I look back on everything it took to get here, it feels like now, I am actually giving back."