Top Ten Questions
Prospective Students Asked. We Answered.
1. Is the food served on campus good?
Yes! Of course, everyone's tastes are different, but we provide a wide selection of meal options. Breakfasts range from fresh fruit and cold cereal to make-your-own omelets (bacon, mushroom, onion and cheddar is a good call!) or quiche Loraine. Our lunches and dinners are tasty, too, and we cater to different dietary needs. Our salad bar is 90 percent organic and purchased locally. We offer daily gluten-free and vegetarian options.
You'll have the option to eat in the Ryan dining hall during traditional breakfast, lunch and dinner hours, or grab an in-between meal at the Griffin Grill — it's our snack bar. Our food service team likes to keep the food fun, too. They'll plan meals around Mardi Gras, St. Patrick's Day, Cinco De Mayo, Cardinals baseball and other events. We also feature global fare, accommodating the wide variety of palettes on campus.
2. What events are there on campus?
Our Fontbonne Activities Board (FAB) works hard to plan the very best on-campus activities. We've enjoyed some top artists in recent years, including American Idol winner Kris Allen, recording artist Ryan Cabrera, actor and recording artist Tyler Hilton, comedian James Davis and many more. Who knows who you might see in the next year or so!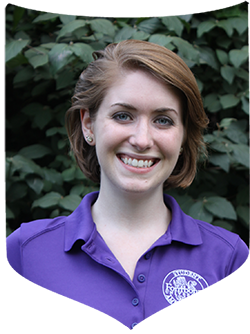 "I am a commuter student at Fontbonne, so I live off-campus. When I started here, I was concerned that I might miss out on 'the college experience' by not living on-campus, but I quickly realized I had no reason to worry! At Fontbonne, there are events at all times of the day, so there is always something to do when I am here. And for those night events that are really exciting and that I don't want to miss, I can hang out in one of the many available lounging areas around Fontbonne instead of driving home and back again. I have never felt excluded or as if I am missing out on campus activities because I commute, and I am so grateful for that!"
— Kelly, speech language pathology major
3. Is Mass mandatory? How much is religion pushed?
How much or how little participation in any faith-based activity on campus is completely your call. We are a Catholic institution, and we're proud of the values that ground us. Campus ministry offers a variety of spiritual programs you can take advantage of – if you want. Small groups, such as Bible studies, can be organized based upon your interest, and our Interfaith Chapel has many resources and literature on a variety of religions. We offer Catholic Mass twice a week in Doerr Chapel. Our Interfaith Fellowship celebrates the diversity of all religions, and welcomes those who may have a lot of questions. You will be welcomed with open arms at Fontbonne.
4. How are roommates chosen?
That's a really good question. If you already know someone you'd like to live with, you'll have a chance to write in his or her name on your housing form. If you're coming to Fontbonne without a specific roommate in mind, you will have the opportunity to fill out a survey that will help find a good match. Our res life staff will do their very best to pair you with someone who shares your interests.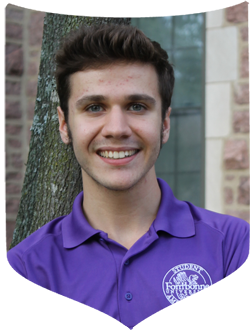 "Because Fontbonne is small, it's really easy to make friends from the minute you step on campus. As a senior, it's amazing to look back and see how many of these friendships have lasted from day one of freshman year and I know it's all because Fontbonne's welcoming and encouraging environment."
— John, speech language pathology major
5. What is campus security like?
We take it seriously. The safety of our students, faculty and staff is a priority here. We're small and that means our public safety officers can really keep on top of things — they're on duty 24/7. As an added measure, City of Clayton police officers drive through our grounds in the evening, ensuring that our campus is as safe as possible. We also have a voluntary text alert system that is used in emergency situations.
6. How easy is it to get involved on campus?
Some students joke that it's TOO easy to get involved here! There are dozens of academic, social and honors organizations. Fontbonne Activities Board – check. Dance Marathon – check. Black Student Union – check. Enactus (business and entrepreneurial club) – yep, that's here, too. Don't see something that interests you? Talk to the Center for Leadership and Community Engagement, and consider starting your own organization!
We don't have traditional sororities and fraternities, but our honors organizations bring together students of different backgrounds to create strong leadership groups like ODK (Omicron Delta Kappa).
7. What does the word "Fontbonne" mean … Why is the school called Fontbonne?
Fontbonne is not an actual word in the French language. We are actually named after Mother St. John Fontbonne, who refounded the Congregation of the Sisters of St. Joseph in 1808 after the French Revolution. In 1836, six sisters came to the United States to teach the deaf, and they established their American roots in Carondelet, a small community in south St. Louis. In 1923, they established Fontbonne as an all-girls school. The first graduation was held in 1927, with eight graduates.
8. How big is Fontbonne?
As of 2018, we have around 1,400 total students. We're big enough where people feel they can engage a variety of activities and interests, but small enough that you won't get lost in the shuffle here. Faculty will know your name. More importantly, with an 10:1 student-to-teacher ratio, they'll work with you to help you achieve your goals.
9. What kind of internships do students get?
Important question. Our faculty and staff believe that hands-on learning is critical. They'll work with you to create internship opportunities with reputable organizations both here in St. Louis and around the country. Some examples include: Gap in Chicago, the St. Louis Science Center, Homeland Security, American Red Cross, Shakespeare Festival of St. Louis and Michael Kors in New York City.
10. What kind of academic support is provided outside of the classroom?
Just about everyone needs a little help at some point. That's why we have the Kinkel Center for Academic Resources, which offers tutoring, test proctoring, coaching and disability acommodations — at no cost to you. Our office of Career Development is another great resource committed to empowering you for the working world. They are the on-campus experts when it comes to career assessments, mock interviews, job search advice and workplace etiquette training.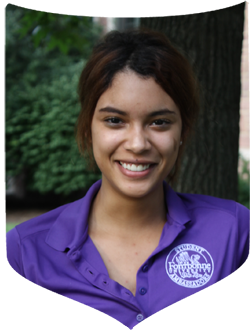 "What I love most about Fontbonne is the amazing teacher-student relationships. My professors aren't just my teachers; they are my leaders and counselors. I'm also very blessed to be able to study within the wonderful English Department here at Fontbonne. I will never forget the amazing statement that one of my English professors told us students during class one day, 'It's not my job to try to fail you. I'm here to try my hardest to help you succeed and grow.' Those words truly spoke to me, and reinforced for me how amazing this Fontbonne Community truly is (which is very comforting since I'm an out-of state student)."
— Fannie, professional writing major, fashion merchandising minor
Ready to learn more?
The best way to find out if Fontbonne is the right fit for you is to schedule a campus visit. You'll get a campus tour – usually led by a student ambassador so they can share first-hand, real-life experiences with you. Then, our admissions team will go over the admission process, scholarship opportunities, financial aid, academic offerings and more. Sign up today!
What Really Makes Fontbonne Different? Watch the Video!
Want to hear what it's like to be a transfer student or what community service means to us? Or maybe you want to take a cool tour of St. Louis. Find all the videos here!
Contact Us
Questions? Contact our Office of Admission: 314-889-1400 or 1-800-205-5862 | fbyou@fontbonne.edu