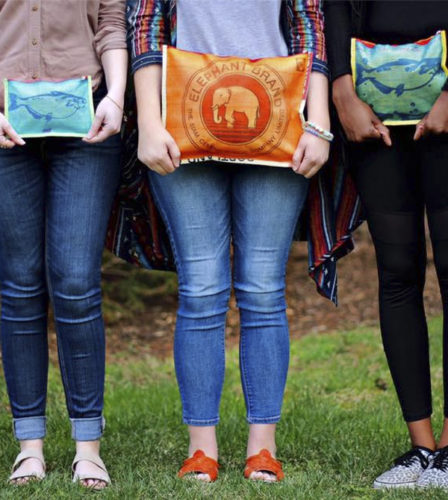 On Saturday, April 8, Fonbonne University fashion merchandising students will debut three exclusive products they developed over the past year in connection with Partners for Just Trade, a fair-trade nonprofit based in St. Louis. The students have worked with the organization to bring the items — a backpack purse, a lunch bag and a train case — through the entire product life cycle, from idea creation to production by PJT artisans to promotion.
The items will debut at a pop-up shop, open on Saturday, April 8, from 10:30 a.m. – 2 p.m., at Focal Point Concerts in Maplewood. The event will feature fair-trade products made in Cambodia, Haiti and Peru, in addition to the new designs. Community partners include Maplewood's Foundation Grounds and Ferguson's Cose Dolci Bakery.
"Fashion merchandising is about far more than just clothing," said Amy Meyers, fashion merchandising instructor. "It encompasses culture, business, economics and history, and in this case, it enables entrepreneurship and independence. With this project, our students have ushered their products from conception to promotion. And since we worked alongside Partners for Just Trade, they see that the benefits of these products are life-changing for the artisans who actually created them."
Partners for Just Trade builds partnerships between producers living in extreme poverty and consumers in North America. The organization is committed to fair wages, safe working conditions, transparency and education.
Students began the project during the fall of 2016, as part of an advanced development class, in which they developed designs, chose fabric and colors, and worked with PJT to create the pattern foundation that was then executed by the Cambodian artisans. Their spring 2017 product promotion class sees the project to fruition with the April 8 event.
Learn more about studying fashion merchandising at Fontbonne.
Save