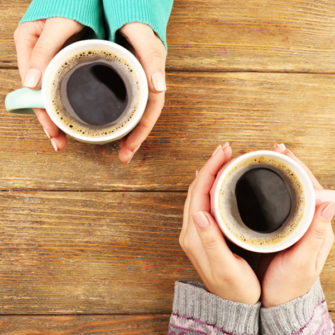 Fontbonne University's newest campus hot spot, a coffee shop proudly serving Starbucks® Coffee, officially opened for business Monday, Feb. 12.
The Fontbonne Coffeehouse has taken up residence in the Taylor Library lobby and will serve Starbucks® coffee and coffee-friendly snacks and products. The full Starbucks® drink menu will be available. The café will be open Monday – Thursday, 7:30 a.m. – 7 p.m.; Friday, 7:30 a.m. – 2:30 p.m.; and Sunday,  1 – 6 p.m. during the regular school year.
In addition to the drinks served in the café, Starbucks® coffee will be available in Ryan Dining Hall and the DSAC Caf.
This new addition is made possible by a donation from Aladdin, Fontbonne's on-campus food service provider.
"The coffee shop is a gift-in-kind from Aladdin to be used for a campus renovation project," said Carla Hickman, associate vice president for student affairs.
To honor the grand opening, the Fontbonne Coffeehouse is offering a variety of specials during the week of Feb. 12 – 16.
Monday, Feb. 12
9 a.m: Ribbon cutting and cake
9 – 11 a.m: Coffee sampling
 Tuesday, Feb. 13
Mardi Gras Cookies: Get them while they last!
Mardi Gras Coffee of the Day: King Cake (hints of apple, sweet honey, and cinnamon)
 Wednesday, Feb. 14
Valentine's coffee of the day: Chocolate Kiss
Buy a coffee for your Valentine: Buy one, get one ½ off
 Thursday, Feb. 15
2 – 4 p.m: Happy Hour (drip coffee for half price or $2.29 handcrafted coffee of the day)
5 – 7 p.m: Acoustic Guitarist Brandon Salter (Sponsored by the Fontbonne Activities Board)
Friday, Feb. 16
Introducing the "Warm & Sweet" (coffee and pastry) promo. Get a Warm & Sweet loyalty card today with your first combo purchase.
10 ­­– 11 a.m: Join Joe Deighton, vice president for student affairs, for "Cup of Joe with Joe," and share thoughts and feedback on the Fontbonne Coffeehouse.