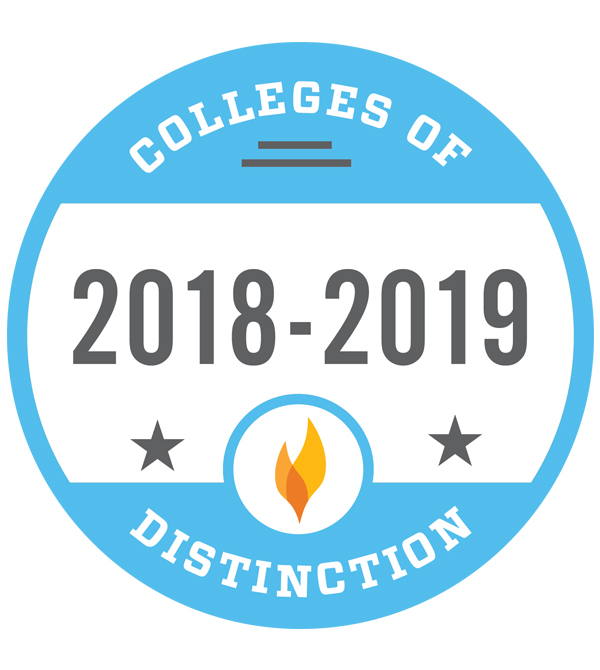 High-impact educational practices have earned Fontbonne University recognition among the nation's 2018-2019 Colleges of Distinction for the third consecutive year. The university is recognized among both Catholic and Missouri institutions as well.
Fontbonne offers a student-centered approach to teaching, and its unique learning environment engages students with character-building experiences, like leadership development tools and opportunities, service learning projects and trips, internships, Dedicated Semester events and experiences, and a diverse campus environment.
"Colleges of Distinction is far more than a ranking list of colleges and universities," said Tyson Schritter, chief operating officer for Colleges of Distinction. "We seek out the schools that are wholly focused on the student experience, constantly working to produce graduates who are prepared for a rapidly changing global society. As a College of Distinction, Fontbonne stands out in the way it strives to help its students to learn, grow, and succeed."
Colleges of Distinction's selection process consists of a review of each institution's freshman experience and retention efforts alongside its general education programs, alumni success, strategic plan, student satisfaction, and more. Schools are accepted on the basis that they adhere to the Four Distinctions: Engaged Students, Great Teaching, Vibrant Community, and Successful Outcomes.
"Through challenging academic programs, a strong, caring university community, and a commitment to our mission and values, Fontbonne challenges students to thrive — in the classroom, yes, but also in their personal and professional lives — and to help others do the same," said Joseph Havis, Fontbonne's vice president for enrollment management.
About Colleges of Distinction
Since 2000, the Colleges of Distinction website and guidebook have honored schools throughout the U.S. for their excellence in undergraduate-focused higher education. The cohort of schools in the Colleges of Distinction consortium distinguish themselves through their focus on the undergraduate experience. The website and annual guidebooks provide dynamic college profiles, customized tools, and resources for students, parents, and high school counselors. For more information, and to learn how to become a College of Distinction, visit CollegesofDistinction.com.