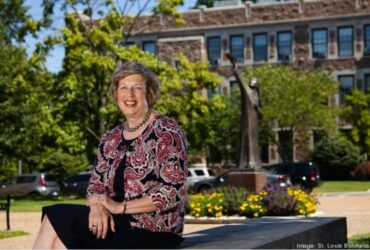 Fontbonne's president, Dr. Nancy Blattner, was recently featured in St. Louis Business Journal for a St. Louis Character article.
St. Louis Character is an ongoing feature that highlights dozens of the region's most unique individuals by taking an in-depth look at their careers, hobbies and volunteer work. Dr. Blattner's feature explores the importance of education in her life, her distinguished career in academia, including her role as president of Caldwell University in New Jersey, her goals for Fontbonne and some of her favorite things about St. Louis.
"When I first came here, I really felt that I saw a perfect relationship between my personal beliefs, my values and my professional aspirations," Dr. Blattner said in her interview with St. Louis Business Journal.
In the article, Dr. Blattner also discussed what it has been like to reopen Fontbonne's campus in the midst of the COVID-19 pandemic.
"The biggest thing for me is to reopen the campus safely," she said. "But I also certainly will look for every opportunity to get to know everyone here. That is critically important as these are the people that have input as we build a long-term vision."
The article is available online. You can learn more about Dr. Blattner on our blog.