Nicolas Valdez, a recent graduate of the Speech-Language Pathology (SLP) graduate program at Fontbonne University, has been selected to participate in the prestigious Voice Fellowship at the University of Southern California (USC). Chosen from a pool of over 60 applicants, Valdez is the single fellow for this program.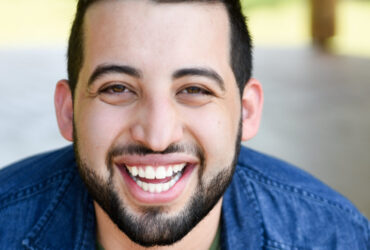 In order to experience more hands-on learning, SLPs are required to complete a fellowship after finishing graduate school to receive their Certification of Clinical Competence. A native of California, Valdez was familiar with the Voice Center within the department of otolaryngology at the USC Keck School of Medicine.
"As I started exploring fellowship programs…it became clear that it (USC) was the right fit for me," said Valdez. "It offered exactly what I was looking for in terms of rigor, research opportunities and practical training."
Valdez will apply his skills and knowledge from his time at Fontbonne when he performs behavioral voice assessments, fiberoptic endoscopic evaluation of swallowing, and acoustic/aerodynamic testing as part of his fellowship. Additionally, he will be participating in monthly dysphonia, dysphagia and research rounds, which provide opportunities to engage with established SLPs who specialize in dysphagia and management of communication and swallowing disorders secondary to head and neck cancer.
Valdez's career path in speech-language pathology had an unconventional beginning. Raised in northern California, he moved to St. Louis in 2016 to finish his undergraduate degree in music at Webster University and launched a successful career as a professional musician performing with the St. Louis Symphony Orchestra, The Muny and several other notable theaters in the metro area.
However, the pandemic proved to be a game changer. "When all performance opportunities vanished during Covid, I felt that my identity was lost, and it was time to seek a more stable career," said Valdez. "A former colleague attended Fontbonne's Masters in Speech-Language Pathology program and I applied based on their recommendation."
Valdez credits Fontbonne with helping him build on his success as a musician to help others by preparing him for the next stage of his career. "The Communication Disorders and Deaf Education department at Fontbonne granted me full autonomy to pursue this specific niche by allowing me to secure my own externships that aligned with my career goals. They did not try to fit me in a specific box, which has allowed me to become the clinician I want to be."
Valdez added that his experience as a singer and pianist has given him the privilege of working with numerous voices throughout his career. This experience led him to pursue speech-language pathology and more specifically a niche path that will allow him to work with professional voice users.
Valdez continued, "I had an overwhelmingly positive experience at Fontbonne. I could not have managed everything over the past two years without the unwavering support from my professors and department."
Fontbonne has been educating students in speech, language and hearing for more than 50 years. With nationally recognized faculty and alumni who are major contributors in the field, Fontbonne has earned more than $15 million in federal grants, which will continue the work of serving and meeting the communication needs of the community.
Prospective students interested in the graduate program should contact the Office of Admission. Speech-language pathology clinicians and faculty interested in joining our team, seeking more information, and interested in community partnerships are welcome to inquire with Department Chair, Dr. Jenna Voss at jvoss@fontbonne.edu. Individuals interested in joining a waitlist for child or adult evaluation or treatment can learn more online. Fontbonne's speech-language pathology clinical services are also available at our partner universities, Avila University in Kansas City, Missouri and St. Catherine's University in St. Paul, Minnesota.