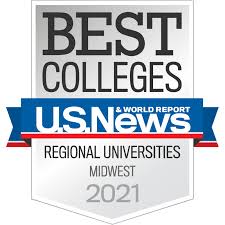 Fontbonne University was recently named to the U.S. News & World Report 2021 U.S. News Best Colleges List. This 36th edition of "Best Colleges" evaluates more than 1,400 colleges and universities on 17 indicators of academic quality. Schools are ranked according to their performance across a set of widely accepted indicators of excellence.
"We are thrilled to be recognized by U.S. News & World Report once again as a Best College," said Fontbonne president Dr. Nancy Blattner. "This ranking is a testament to the strength of our curriculum, the high-quality educational experience the university provides, and the hard work of our faculty and staff in creating an environment that guarantees student success both in and out of the classroom."
Fontbonne ranked in a number of categories, including #51 in Regional Universities Midwest. This category includes schools that offer a full range of undergraduate programs and some master's programs but few doctoral programs. Rankings are split into four regions: North, South, Midwest and West.
The university also ranked #29 in Best Value Schools (Regional Universities Midwest). To determine which colleges and universities rank as a Best Value School, U.S. News & World Report calculates an institution's academic quality and the 2019-2020 net cost of attendance for a student who received the average level of need-based financial aid.
U.S. News & World Report's overview of Fontbonne highlighted the university's suburban campus, located just outside St. Louis City in Clayton, Missouri, and in close proximity to Forest Park, which has consistently been named one of the best parks in America. It also noted Fontbonne's undergraduate enrollment. The university's 10:1 student-to-faculty ratio is ideal for students looking for smaller classroom sizes, opportunities for discussion and one-on-one time with faculty.
The affordable, world-class education Fontbonne offers has also garnered recognition from WalletHub. It was recently included on the website's 2021 College & University Rankings list, which compares more than 1,000 higher education institutions in the U.S. to determine the top-performing schools at the lowest possible cost to undergraduates.