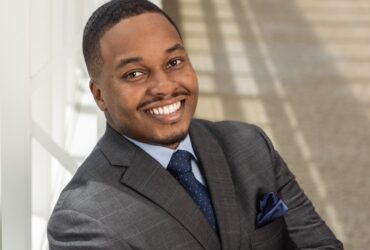 Fontbonne University has named Quinton Clay Vice President for Enrollment Management and Marketing. He joins Fontbonne from Northern Illinois University (NIU) where he has served as the Director of Undergraduate Admissions since 2018. In his new role at Fontbonne, Clay will oversee admissions, international affairs, financial aid, and marketing and communications, among other responsibilities.
Clay brings more than 15 years of experience in student recruitment, marketing and communications to Fontbonne. He has led admissions efforts for major universities, including Cornell University, the University of Illinois at Urbana-Champaign, Grinnell College and DePaul University.
"Fontbonne University is delighted Quinton is joining our campus community," said Fontbonne president Dr. Nancy Blattner. "In addition to his experience in the area of enrollment management, Quinton brings a strong commitment to the value-laden education and the student-centered mission embraced by our institution. I look forward to welcoming him to our leadership team."
As a college admissions and enrollment management thought leader, Clay uses an entrepreneurial lens to find strategic intersections between market data analysis and equity and inclusion practices. At NIU, he leveraged his vast network of personal relationships with school counselors and secondary institutions across the U.S. to raise the university's visibility, reputation and reach. Clay is also an active contributor within the college admissions professional community. He has been called upon by The Chronicle of Higher Education to serve on panels addressing several critical enrollment management topics.
"I believe higher education is the primary tool for social mobility and means to holistic growth and development," Clay said. "I chose Fontbonne because I recognized many leaders and members of this community are dedicated to providing transformational academic and holistic experiences. Students' dreams, challenges and individual circumstances matter to me in the most personal way, and I believe many within the Fontbonne community share this altruistic conviction."