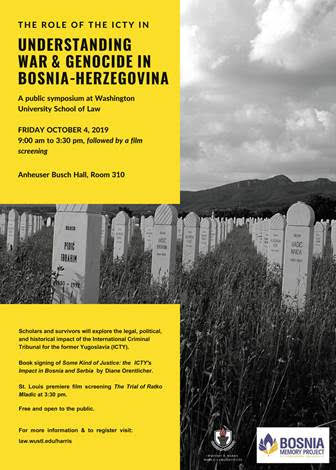 Fontbonne's Bosnia Memory Project, an organization dedicated to establishing an enduring oral record of Bosnian genocide survivors, is partnering with Washington University School of Law's Whitey R. Harris World Law Institute to host a free, public symposium on Bosnian war crimes Friday, Oct. 4.
The symposium, "The Role of the International Criminal Tribunal for the former Yugoslavia (ICTY) in Understanding the War and Genocide in Bosnia-Herzegovina," will take place from 9 a.m. to 6 p.m. in Washington University's Anheuser-Busch Hall in Room 310. Scholars, survivors and legal experts, including the Tribunal prosecutor in the genocide trial of war criminal Ratko Mladic, will explore the legal, historical and political issues that have shaped our understanding of the 1992-1995 war and genocide in the former Yugoslavia.
"The highlight of the symposium will be the wide range of speakers offering different perspectives, from prosecutors of war crimes to people residing in St. Louis who survived the war and are living with its consequences," said Benjamin Moore, Ph.D., associate professor of English at Fontbonne and director of the Bosnia Memory Project.
Although the war in Bosnia-Herzegovina resulted in the deaths of 100,000 Bosnians and left two million refugees, Moore said that it proved difficult to establish the crime of genocide at the ICTY, leaving survivors with many unanswered questions.
"As more than 50,000 refugees in St. Louis try to grapple with their wartime experiences, the questions of justice are not simply an abstraction, but part of a reverberation of the events that took place 25 years ago in Bosnia," Moore said. "It is important to understand how the Bosnian community here has its roots in a tragedy with international significance."
In addition to several panels, the symposium will include remarks from former Missouri Congressman Russ Carnahan, a book signing of Some Kind of Justice: The ICTY's Impact in Bosnia and Serbia, and a film screening of The Trial of Ratko Mladic.
Attendees can register for the event and view the full agenda here: https://www.eventbrite.com/e/symposium-on-bosnian-war-crimes-at-washington-university-school-of-law-tickets-65064251929