Fontbonne University graduate student Hannah Thornburgh has been recognized with the Missouri Council for Activity and Nutrition's student award.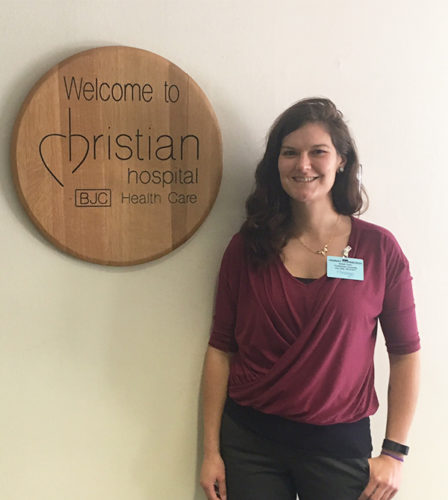 Known as MoCAN, the organization is a coalition of statewide and local agencies, institutions and individuals who work together to advance the goals and objectives of "Preventing Obesity and Other Chronic Diseases," Missouri's nutrition and physical activity plan.
Thornburgh is enrolled in Fontbonne's Individualized Supervised Practice Pathways program for students who have an undergraduate degree in dietetics and need to complete a supervised internship. As part of the program, she is also enrolled in Fontbonne's family and consumer sciences master's program with a concentration in multidisciplinary health communication studies.
Thornburgh is being recognized for her work with the Fit and Food Connection, a local nonprofit agency that provides healthy foods and exercise activities to those in need. She volunteered as the assistant coordinator for the emergency food program, working in client outreach where she gathered information about individuals' specific needs and worked to fulfill them by providing various resources. She created several handouts, including recipes that can be made from garden produce provided through a partnership with Urban Harvest. She also organized volunteers, managed projects and fundraising events, and worked to increase community partnerships. Additionally, she serves as a member of the organization's board of directors.
Thornburgh is currently in supervised practice rotations at Christian Hospital, a founding member of BJC HealthCare in St. Louis.
She is planning to attend the MoCAN July meeting in Columbia, Mo., to present on her project and receive her award.