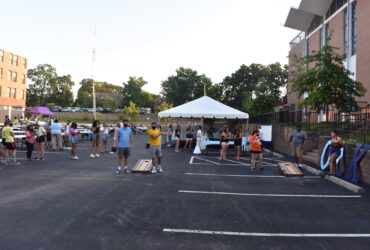 Life on Fontbonne's campus looks a little different this semester. Mandatory masks, social distancing, temperature checks and hand sanitizer is the new normal. Nevertheless, students are finding new, safe ways to interact with one another and stay engaged in the activities they've always enjoyed, according to Joel Hermann, director of orientation and student engagement.
"During Orientation and Welcome Week programming, it was clear our students were aching for opportunities to connect with one another," Hermann said. "My team of leaders worked hard to make sure they had those opportunities in a safe environment."
Student organizations are still meeting and developing on-campus events, athletic teams are staying connected with coaches and staff, and the residential life team is creating a sense of community throughout student living spaces.
Dyllan Haggard, junior, computer science major, and WING Leader at Fontbonne, said planning campus events has been challenging with new restrictions limiting in-person events to 50 people or less. He said some traditions are adapting to a virtual format, allowing students to participate from home.
Hermann helps student leaders like Haggard plan and host events outside, ensuring hand sanitizer and disinfectant wipes are readily available, masks are on at all times, and capacity is limited so participants can remain socially distant.
As a WING Leader, Haggard collaborated with the university's administration to make sure Fall Orientation and Welcome Week followed all safety guidelines while still engaging first-year students. Hermann was proud that Haggard and other WING Leaders stepped up to the challenge.
"After training, these student leaders took policy and procedure to heart and worked to make sure our newest Griffins understood why we had systems in place," Hermann said. "I think they were great role models and really set the tone in regard to how we will move forward this school year."
Maria Dietrich, junior, speech-language pathology major and fellow WING Leader said new students have quickly adapted to the rules during the first few weeks of classes. This was her first year on the Orientation team, and while the experience was different than in years past, she said Orientation and Welcome Week were still a great time for everyone involved.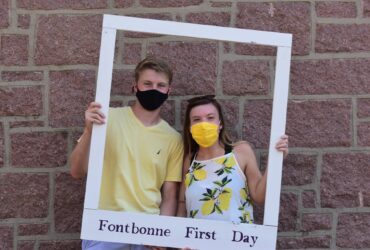 "Even though it was a tough year with all the restrictions, the team really came together by keeping a positive attitude to give the freshmen the best experience we could," Dietrich said.
Haggard, who also plays on the men's soccer team, said student athletes are continuing to train safely so they're ready to resume competitive play in the spring.
"When we show up to training, we get our temperature checked before we can take off our masks," Haggard said. "We take the precautions seriously because we know that's how we'll be able to get back to competitive games."
Hermann said despite the challenges the pandemic has brought, student leaders and Fontbonne's administration will continue to host safe in-person and virtual events allowing students to make the most of their collegiate experience.
"I think the positive spirit that surrounds our community will keep us going," Hermann said. "Students will be able to look forward to traditions – even if they are adapted for safety along the way. We're working to provide a great campus experience for everyone moving forward."