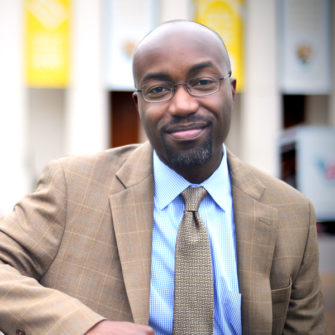 Fontbonne University's Academic Convocation 2018 will take place Wednesday, Sept. 5. Faculty, staff and students are encouraged to attend the event, which signifies the official start of the academic year and kicks off Fontbonne's annual Dedicated Semester. This year, the Dedicated Semester takes a broad, interdisciplinary perspective on practical, theoretical and political topics related to Family: Past, Present, Future.
Dr. Jason Purnell, an associate professor in the Brown School at Washington University in St. Louis, will serve as convocation speaker and will explore the topic of "family" from his vantage point as a psychologist and public health expert. Purnell's research focuses on health equity and the social determinants of health, with a special emphasis on the social, cultural, and economic factors that influence health behaviors and health outcomes. He leads Health Equity Works, an initiative previously known as For the Sake of All, that connects communities with data in order to accelerate action on social conditions influencing health and well-being. For the Sake of All and a report by the same name released in May 2014 served as a critical resource in the wake of the unrest that followed the fatal shooting of Michael Brown in Ferguson that same year.
Convocation will take place at 10:15 a.m. in Mabee Gymnasium in the Dunham Student Activity Center. Returning students should wear stoles and pins. New students will receive stoles.
Academic Convocation
Wednesday, Sept. 5
10:15 a.m.
Mabee Gymnasium
What is Academic Convocation?
Fontbonne University was founded by the Sisters of St. Joseph of Carondelet, a community of religious women that has ministered to the needs of individuals and the world for more than 350 years. During Academic Convocation, we gather to recognize, celebrate and strengthen our identity as a Catholic institution of higher education that seeks to focus the charism of the Sisters into one particular mission: educating leaders to serve a world in need. This event allows us to put our academic vision into action.
What is the Dedicated Semester?
This collaborative initiative encourages the entire university — students, faculty and staff — to explore a single theme each fall semester. Now in its 12th year, the Dedicated Semester is a cooperation of the university's colleges, divisions, departments and programs, offering interdisciplinary courses, co-curricular activities, guest lectures, films, panel discussions and more. Learn more about this year's Dedicated Semester focused on family.