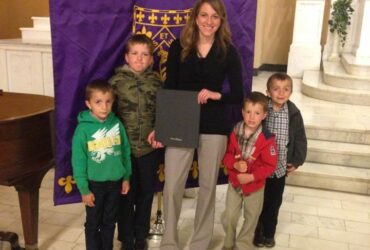 Alumna Dr. Loretta Dunkmann was recently named Early Childhood Special Education Process and Diagnostic Coordinator at Rockwood School District starting in July. She earned both her bachelor's degree and master's degree in speech-language pathology from Fontbonne.
We sat down with Dr. Dunkmann, who currently serves as the early childhood special education process coordinator and diagnostic speech-language pathologist in the Orchard Farm School District, about how her Fontbonne experience prepared her for a successful career in education.
Tell me about your experience as a student at Fontbonne.
When I started at Fontbonne, I was a mom of four kids who were all under 5 years old. I decided to go back to school to pursue my degrees in speech-language pathology, and knew I needed to find a college that could accommodate my non-traditional status as a student and busy mom.
I started at a community college and toured universities in St. Louis to find the best fit for me and my kids. Fontbonne was so flexible, and the department heads all took the time to walk me through a course plan that would work for me.
Once I started at Fontbonne, I loved the small school environment where I was able to build personal relationships with all of my professors. The individual attention made a huge difference for me. My kids were also able to participate in the Augmentative and Alternative Communication Family Weekend Theater Camp at Fontbonne, which allowed me to further my education and engage them in fun activities. Fontbonne made it easy for me as a mom to return to school and successfully complete the programs.
Why did you decide to pursue speech-language pathology?
I have a set of twins who were born with cleft lip and cleft palate. They received a lot of speech interventions from birth through second grade. My mom is also a speech-language pathologist (SLP), and when my kids started going through this therapy, I began to understand her role.
SLPs have so many opportunities. Whether it's working in a hospital setting or school or caregiving, I liked the idea of having options. I originally wanted to work with a cleft palate team in a hospital, but after completing a practicum through Fontbonne in this area, I realized it wasn't for me.
How did Fontbonne prepare you for your career today?
Fontbonne exposed me to different environments and types of SLP work through multiple practicums. I'm grateful to have had experience in private practices, school settings, hospitals and some low-income areas. It was a well-rounded program that helped me fall in love with schools and education.
Tell me about your new role at Rockwood School District.
I will oversee early childhood diagnostics and testing to determine if a child has a learning delay. In addition, I'll supervise the evaluation and create plans for the children with delays. I'm also going to be supporting parents through the process of identifying the delay to coming up with a plan to catch their children up. Additionally, I will collaborate with the larger district staff and the general early childhood program for special education to decide how classes are set up and make sure instruction is inclusive for all students.
What are you most looking forward to in your new role?
I am looking forward to continuing to support parents on a larger scale. I know how overwhelming this process can be, and I want to share my story with them and help guide them through it. I am also excited to move to a larger district with more diversity, which will help me grow my understanding of different cultures and disabilities.
What advice would you give current Fontbonne students looking to have a similar career?
You get out of it what you put into it. I put in a lot of hours and hard work to get those degrees, but it's all worth it. I am a strong advocate for continuing your education and learning as much as possible.
For any moms specifically thinking about going back to school but not sure if they can do it, know that you can. If you believe in yourself, have the right support system in place, and choose a school that will work with you, it's all possible.