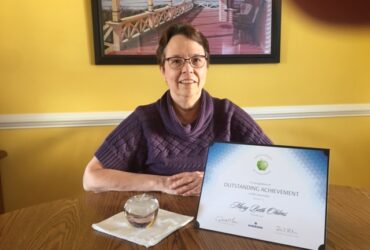 This October, Mary Beth Ohlms, assistant professor in Fontbonne's Family and Consumer Sciences Department, became one of 100 educators in the St. Louis area to receive the 2020 Emerson Excellence in Teaching Award.
Award recipients range from kindergarten teachers to college professors, and are selected by the chief administrators of their school districts or employing educational institutions for demonstrating excellence in their field. We recently spoke with Ohlms to learn more about her career in education and her dedication to the Fontbonne community.
Q: What was your reaction when you found out you were a recipient of the 2020 Emerson Excellence in Teaching Award?
My first thought was, "Is this for real?" I actually emailed the Family and Consumer Sciences Department chairs and dean to see if they knew anything about it, and of course, they did. I was so surprised. As an educator, you teach because you love it, so getting recognized for what you do is like icing on the cake. To be honored for helping students overcome their struggles to reach their full potential is amazing to me.
Q: How do you demonstrate excellence in teaching at Fontbonne?
I have so much empathy for our students. They know I care about them. If someone is struggling with the way I'm teaching something, I'll change or adapt it so they can understand. I personalize my teaching to each individual student because we all have different abilities. I've also been known to meet with students at all hours of the day, from 7 a.m. to 8 p.m., when my office hours don't work for them or because they have other obligations such as a job. If they need extra help, an extension on an assignment, or just someone to talk to, I'll be there.
Q: You also won Fontbonne's 2020 Joan Goostree Stevens Excellence in Teaching Award in April. How does a professor earn that award?
Professors are nominated by students, faculty and staff. I've been nominated three times, so I was floored when I received the award this year. It's great to know faculty and staff recognize how much I love teaching, but it means the world to be honored by my students. To know they understand I care about them is so important to me.
Q: Why did you decide to become an educator?
I was a dietitian before I decided to change careers. After 25 years, I made the decision to go back to school to get my master's degree in education. I made the pivot because my favorite part about being a dietitian was always patient education and training my peers. It was a scary leap of faith, but as soon as I got into the classroom, I knew it was where I was supposed to be. Working with students to help them realize what they're capable of is extremely rewarding and exciting.
Q: When did you start teaching at Fontbonne?
I came to Fontbonne in 2009. When I heard about the job, I knew the university by its reputation before I applied. The wonderful things I heard from students and administrators about Fontbonne's mission, values and commitment to service resonated with me. During my interview, I remember thinking, "If I get this position, I will be so happy," and when I got the good news, I truly was.
Q: What do you enjoy most about teaching at Fontbonne?
Our first priority is to do what's best for our students. We call it the Fontbonne Way, which means giving every student 100 percent of your effort and having their back. I once had a student in class who wasn't very engaged and didn't end up doing well. Because GPA is important in the dietetics field, he asked to retake my class a couple years later. I wasn't teaching that particular course at the time, but I did an independent study in the summer just for him. He had really grown and matured, and ended up doing much better the second time around. Now, he's about to graduate from our Coordinated Program in Nutrition and Dietetics. That is the Fontbonne Way.
Q: What about your teaching career are you most proud of?
I'm most proud of being part of such a successful team of educators in the Family and Consumer Sciences Department. Dietetics students must have internship experience in order to become registered dietitians, so getting matched up with an opportunity is absolutely critical. In the last couple of years, all of our students have matched. What's behind this success is a ton of thought about curriculum, textbooks, experiential learning and networking. Being able to contribute to this has been very rewarding.