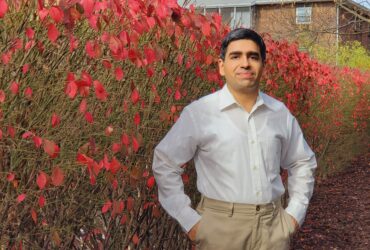 Dr. Zahid Anwar, associate professor in Fontbonne's Mathematics and Computer Science Department, was recently invited to contribute to Authority Magazine's series about "5 Things You Need to Know to Optimize Your Company's Approach to Data Privacy and Cybersecurity."
Authority Magazine is a Medium publication that shares leadership lessons from authorities in business, technology, sports and more. In the article, Dr. Anwar discusses his experience in the cybersecurity industry, ways companies can thwart and recover from cybersecurity attacks, and the things that excite him most about the field.
"With the digitization that has engulfed the world and with each new wave of technology, fresh risks are created every day," Dr. Anwar said. "Cybersecurity professionals must remain a step ahead. Think of it like a digital sport where one has to regularly train and learn new moves to keep ahead of other players."
He also discussed the career opportunities available to cybersecurity professionals.
"Cybersecurity presents a high growth potential, both in career paths and for learning opportunities extending from senior management positions to dozens of different roles like penetration testing and cyber incident response," Dr. Anwar said.
Dr. Anwar has worked as a software engineer and researcher at Motorola, IBM, Intel, National Center for Supercomputing Applications (NCSA), xFlow Research and CERN on various projects related to information security and data analytics. He has authored more than 80 technical articles in his domain and is Security+ certified. His research interests include cyber threat intelligence and the security of the Internet of Things.
Read Dr. Anwar's interview in Authority Magazine, and learn more about Fontbonne's ABET-accredited bachelor's degree programs in cybersecurity and computer science on the university's Department of Mathematics and Computer Science webpage.