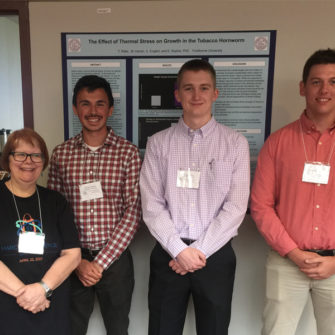 Several Fontbonne University students and faculty in the departments of biological and physical sciences and math and computer science were invited to make six poster presentations at the Missouri Academy of Sciences annual conference April 22-23 at Lindenwood University.
"The best way to learn science is to do science, so it's important for students to have meaningful research experiences," said Dr. Adam Weyhaupt, dean of Fontbonne's college of arts and sciences. "Our students get an opportunity to work one-on-one with faculty on projects that matter. With a liberal arts foundation and solid scientific background, these students are prepared to be a powerful force for positive change in the world."
The presentations, along with students and faculty members involved, included:
URBAN LANDSCAPE GENETICS AND RACCOONS (PROCYON LOTOR):  Rachael Hammann and Dr. Kelly Lane-deGraaf.
THE EFFECT OF THERMAL STRESS ON GROWTH IN THE TOBACCO HORNWORM:  Michael Kanan, Thomas Ritter, Cole Englert and Dr. Elizabeth Rayhel.
PREDICTING THE THREE-DIMENSIONAL STRUCTURES OF MUTATED GLYPICAN-3 PROTEINS IN ZEBRAFISH:  Heather Wiegman, Ameera Jaouni, Matthew Tossick, Kaley Reedy, Dr. Samantha Warren and Dr. Stephenie Paine-Saunders.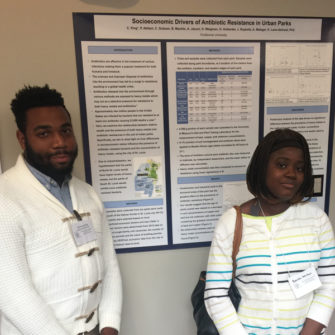 SOCIOECONOMIC DRIVERS OF ANTIBIOTIC RESISTANCE IN URBAN PARKS:  Christian King, Pascaline Akitani, Christopher Graham, Bradley Macklin, Ameera Jaouni, Heather Wiegman, Olivia Hollander, Justin Rujawitz, Alana Metzger and Dr. Kelly Lane-deGraaf.
P-HACKING IN PRIMATOLOGY:  Michael Picciolo, Leann Smith, Zachary Carel, Diamond Carroll and Dr. Kelly Lane-deGraaf.
GIRLS-IN-SCIENCE: HANDS ON SCIENCE EDUCATION:  Madalyn Cooksey, Jaylah Jones and Dr. Kelly Lane-deGraaf
Learn more about our biology programs or our math/computer science programs.
Save
Save
Save