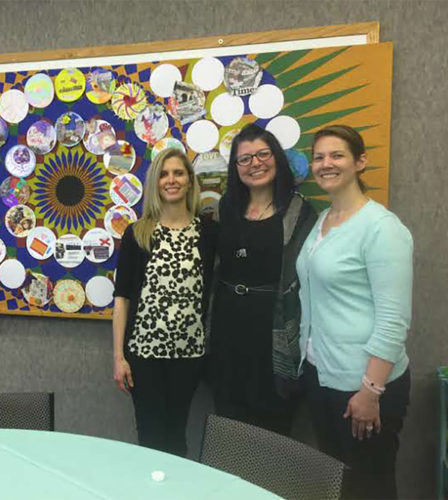 The Fontbonne University social work department was a co-sponsor of the National Healthcare Decision-Making Day open house and expressive arts workshop at St. Luke's Hospital in Chesterfield April 18, 2017.
The day featured an open house and art exhibit in the hospital atrium, an interactive art exhibit titled "Before I Die" and an expressive arts workshop presented by graduates of Fontbonne's Advanced Skills Training in Expressive Arts and Integrative Therapies Certificate Program.
Read the St. Louis Magazine feature!
Rebecca Lasater, MSW, LCSW, OSW-C, a clinical social worker and certified oncology social worker at St. Luke's Hospital, and co-presenter Nicole Landwehr, MSW, LMSW, a master social worker with St. Luke's Home Health and Hospice, both earned certificates in the Fontbonne program.
"Adding expressive arts and integrative therapy knowledge to a clinician's toolkit can enliven and rejuvenate a therapeutic practice," said Fontbonne adjunct faculty member Kim Anderson, coordinator of the program. "Creativity and holistic modalities are innately reparative and restorative. We are able to explore feelings, thoughts, and attitudes and literally see or experience them more clearly and acutely."
The workshop, also co-sponsored by the Gateway End-of-Life Coalition, addressed the role of provider self-awareness in relation to advance care planning and the potential benefits of expressive arts to patients and their families.
Fontbonne social work senior Kara Moreno, who is completing a focused practicum at St. Luke's, also contributed to the workshop, organizing all the art supplies that participants needed. She also shared her own art creation that had a very personal connection.
"My creation was titled 'Dad,' and I attached cutouts of a statement I wrote dealing with my dad's death," Moreno said. "The whole experience helped me learn more about healthcare and all the obstacles and dynamics of death and planning for death."
Learn more about Fontbonne's social work major or the Advanced Skills Training in Expressive Arts and Integrative Therapies Certificate Program, a 30-hour training program that incorporates rigorous clinical training into an experiential curriculum designed to augment the skills of credentialed professionals. The program is being offered again in October.