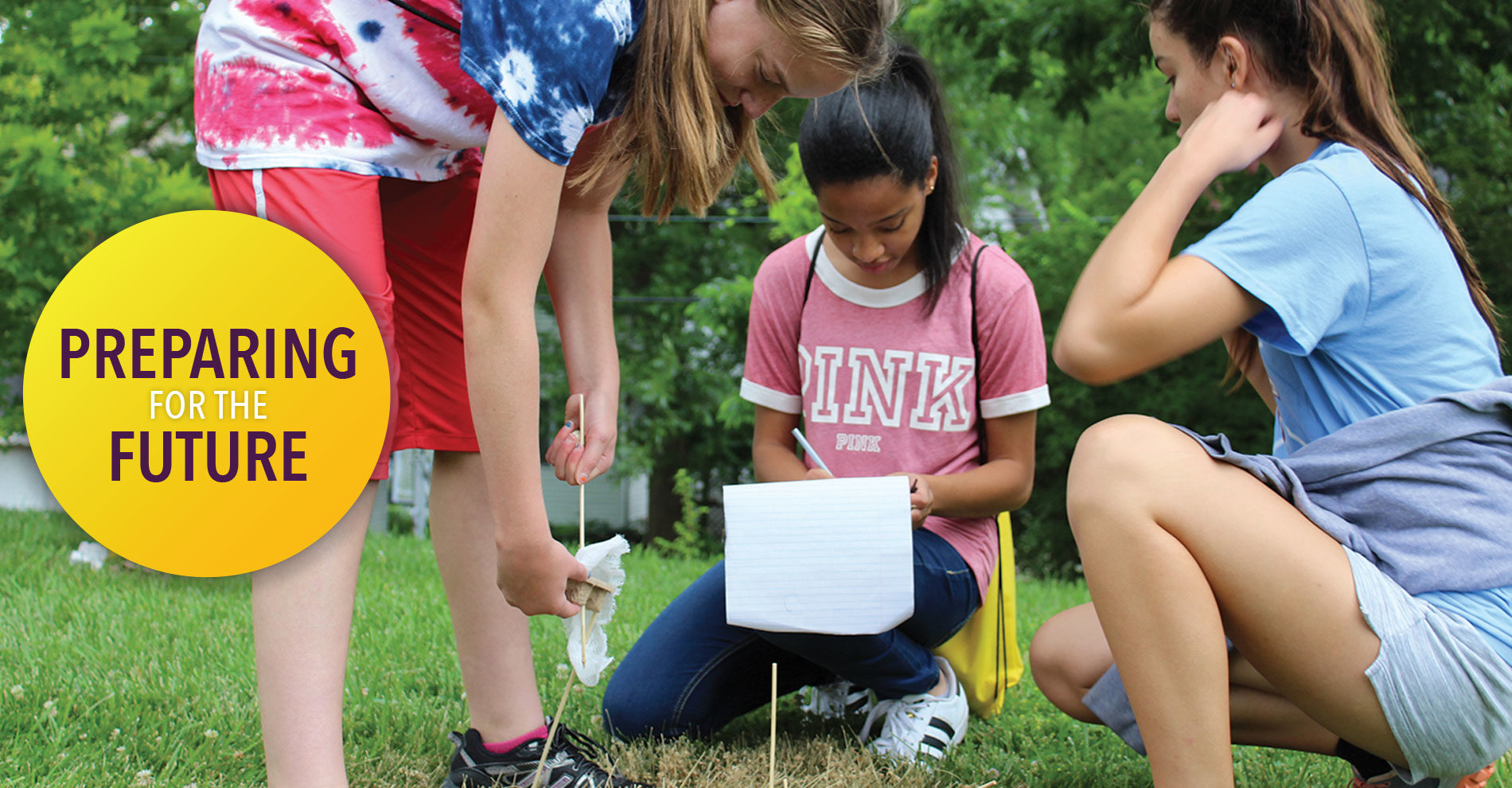 By Elizabeth Hise Brennan | Tableaux, Summer/Fall 2017
It is a bit of an understatement to say that Dr. Kelly Lane-deGraaf likes science. As a disease ecologist specializing in genetics and parasite transmission, this assistant professor of biology loves science. And she wants young women to love it too.
Two years ago, Lane-deGraaf set out to create a space for middle school-aged girls to engage in science and to see women scientists in action. Her Girls-In-Science Summer Science Research Experience, held throughout two weeks on Fontbonne's campus, began in 2015 with just five girls and no funding. This year, she was able to host 24 — and pay three female undergraduates as assistants — with the help of a $14,000 grant from Monsanto Fund and a donation from the Wells Fargo Foundation.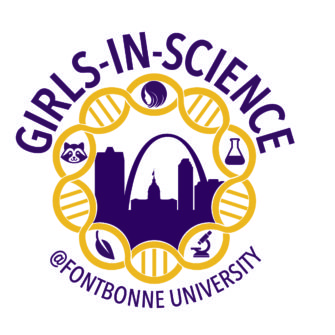 "There's a disparity in the number of women interested in science as young people and the number that actually go and do science," she explained.
"There's also a disparity in how we teach science and how we do science. We teach science as a body of facts, when in reality, we don't know anything! Failing and repetition — that's how science is done."
Girls lose interest in science and math around middle school, a fact thought to be influenced by a number of factors, including a lack of visible female representation in STEM fields, as well as gender bias in educational settings and later, in the workplace.
These factors are precisely what Lane-deGraaf seeks to address. The research experience hosts young women in seventh, eighth and ninth grades — the sweet spot where they might easily be discouraged from digging in and studying science and math.
Instead, she wants to provide encouragement, role models and realistic experiences that show girls how science is really done … and that they are capable of doing it.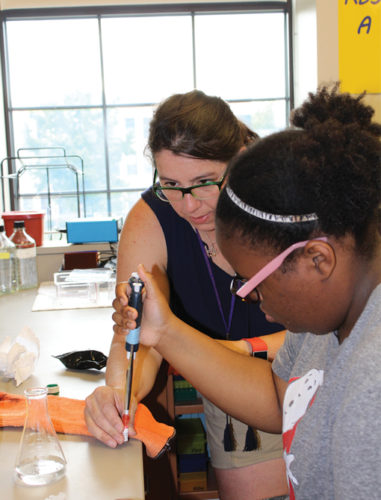 Role Models
Throughout the two-week experience, Lane-deGraaf facilitated opportunities that explored population genetics, animal behavior, microbiology and parasitology. Her young scientists set up animal behavior experiments throughout Fontbonne's campus, recorded and analyzed data, troubleshot experiments and used professional software to track their research.
They were assisted by women with a passion for learning. Olivia Hollander graduated from Fontbonne in May with a bachelor's degree in biology for secondary education. This fall, she will teach biology and earth and space science in the Wentzville School District in St. Louis County. Maddie Cooksey, a senior biology major, is working as one of two Monsanto Fund scholars, reading and scoring grant applications. She plans to work her way toward a Ph.D. at Washington University beginning next year. And Jaylah Jones is a junior history major who has spent a considerable amount of time in the biological and physical studies department as a work study student.
"I had started doing research for Dr. Lane-deGraaf in January, and I asked her if there were any opportunities she knew of for me to get some experience outside of school in research and science in general," Cooksey said. "She told me about her camp and the Monsanto opportunity at the same time. Hearing about the camp made me very excited because I know I would have loved it when I was younger."
Although Jones, the oldest of seven siblings, doesn't intend to major in a science field, she loves kids and wants to encourage young girls to pursue their passion. And she appreciates Lane-deGraaf's focus on the inclusivity of young women of color, another demographic lacking in STEM fields.
"Here at Fontbonne, there is a lot of talk about diversity," Jones said. "Even the science department has gotten in on that. The Girls-In-Science Program really reaches out to make sure that all girls are involved."
Getting Their Hands Dirty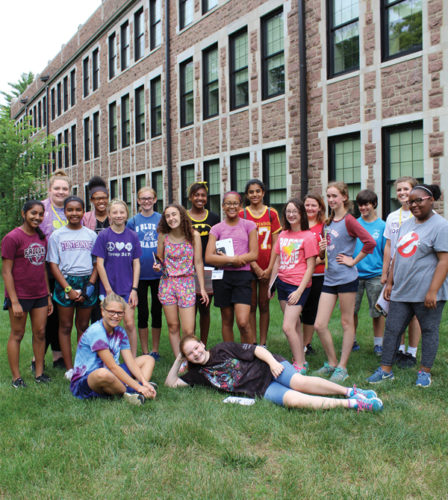 Each morning, Jones, Hollander and Cooksey took teams of girls outside on campus, where they assessed the animal behavior experiments they set out the night before. Some tested the efficacy of bug spray to ward off insects, while others determined whether certain scents attract or repel animals from food.
Each day, the girls observed, weighed and measured, then prepped for the next day's experiments. In between, they tested animal feces for parasites, explored the diversity of bacteria, and learned the ins and outs of working in a lab.
Even repetitive tasks were part of the process.
"I want them to learn the value of a notebook, data collection and writing everything down," said Lane-deGraaf. "This experience helps them learn the basic techniques of what I use every day. I want them to begin to see science as a way to approach their world."
All of the tasks the girls completed were related to Lane-deGraaf's own areas of expertise, and the research they completed wasn't simply busy work — they were contributing to viable scientific study.
"I want them all to become scientists," Lane-deGraaf said. "But most importantly, I want them to know that science is accessible, and they can do it."
Learn more about studying biological and physical science at Fontbonne.
Save