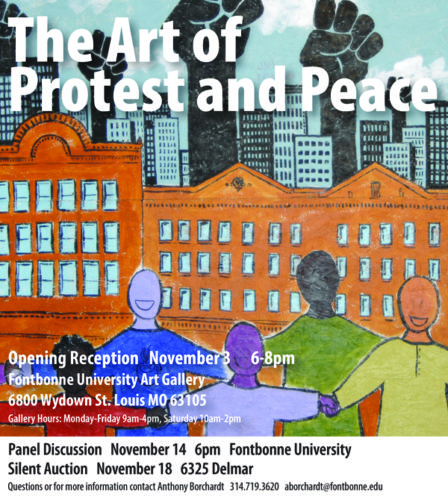 In times of conflict, art can offer healing to a broken community, and St. Louis is no exception. In an effort to explore the role of art as an intersection of pain and hope, Fontbonne University presents "The Art of Protest and Peace," an exhibit featuring wooden panels, painted by St. Louis artists, used to seal the business and shop windows broken during protests following the Stockley verdict in September.
The exhibit, which can be seen in Fontbonne's Fine Arts Gallery Friday, Nov. 3 – Friday, Nov. 17, is curated by Anthony Borchardt, fine arts faculty member and acting gallery director.
"Some storefront windows on Delmar and Olive streets were damaged during protests," explained Dr. Adam Weyhaupt, dean of the college of arts and sciences. "These businesses boarded up their windows until they could be repaired, and a number of community members and artists painted the boards with messages of hope, unity, protest and peace."
Borchardt secured commitments from some of these businesses and has turned the painted boards into a gallery collection, offering the panels for contemplation and a look at the community's pain and its hope for healing.
Events surrounding the exhibit include:
Opening Reception
Friday, Nov. 3, 6-8 p.m.
Fontbonne University, Fine Arts Gallery
(Gallery hours: Monday – Friday, 9 a.m. – 4 p.m.; Saturday, 10 a.m. – 2 p.m.)
Panel Discussion (featuring business owners and artists)
Tuesday, Nov. 14, 6 p.m.
Fontbonne University, Dunham Student Activity Center
Silent Auction (sponsored by the Loop Special Business District)
Saturday, Nov. 18
6325 Delmar Blvd.
To learn more, contact Anthony Borchardt at 314-719-3620 or aborchardt@fontbonne.edu.
Save
Save
Save