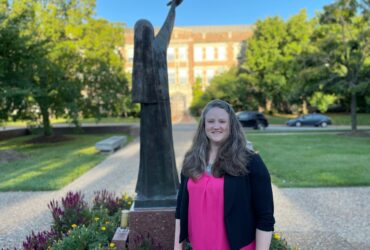 Melissa Telles has joined Fontbonne University as the Director of Admissions. Melissa joins Fontbonne from Western Illinois University, where she served as associate Director of Admissions since 2011, overseeing freshmen recruitment, scholarship programs, alternate admission program, and supported data analysis and reporting.
In her role at Fontbonne, Melissa leads the Office of Admission in recruiting and enrolling new undergraduate and graduate students. "I've been very fortunate to be a recruiter of freshmen, transfer and evolve into an admission director role. In my new role, I look forward to using my background, skills, and experience to lead Fontbonne's recruitment team and work collectively to bring more students to this private, Catholic university."
Melissa's extensive background in university admissions builds a strong foundation for leading Fontbonne's Admissions team in recruiting and welcoming diverse, talented, and highly motivated students who contribute to the Fontbonne community. In addition to her focus on undergraduate and transfer students, Melissa recognizes the unique challenges and sees the opportunities with respect to expanding recruitment efforts for graduate students. 
Melissa shared her enthusiasm for working with Quinton Clay and the admission counselors on presenting an affordable education at a university that offers a unique experience and a strong sense of community.
"Fontbonne University is excited to have Melissa as our Director of Admissions," says Quinton Clay, Fontbonne's Vice President for Enrollment Management, Marketing and Communications. "This is a particularly unique time in college admissions where an entrepreneurial, passionate, and systems thinker like Melissa can have a particularly positive impact at a place like Fontbonne."
Fluent in Portuguese and Spanish, Melissa's experience and skills will strengthen Fontbonne's record for improving the academic profile and diversity of its entering classes. Melissa lived in Brazil and Mexico during her time as an exchange student. "Melissa presents a rare combination of familiarity and experience of recruiting both first-time freshman and transfer students," says Clay. "She offers in addition to a very unique cross-cultural lense for her time living abroad and fluency in trilingualism."
In addition to joining the Fontbonne family, Melissa shared her enthusiasm for re-locating to St. Louis. "I'm looking forward to beginning this new chapter both professionally and personally. This region offers so much culture, art, and recreation. I'm eager to explore and experience the sports, dining, and parks throughout St. Louis."
Melissa holds a bachelor's degree from Western Illinois University in Agriculture with an Agriculture Business concentration and minors in Management and International Relations. She holds a master's degree from the University of Tennessee in Agricultural Economics.
 "I was really impressed with Fontbonne's heritage. Fontbonne's campus is beautiful. You can sense the pride that the community has in the university. I'm excited to officially be part of the Fontbonne family."