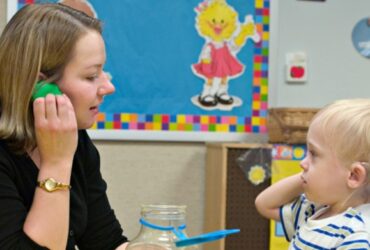 Fontbonne University has opened a graduate distance program at Avila University in Kansas City, Missouri. Part of the program will include a speech and language clinic, offering free evaluation and treatment of a wide variety of communication disorders resulting from conditions such as stroke, cerebral palsy and traumatic brain injury. The clinic will also allow graduate students in Fontbonne's Department of Communication Disorders and Deaf Education (CDDE) to gain hands-on training.
Fontbonne University's accredited Master of Science in Speech-Language Pathology (SLP) program prepares dynamic clinicians to work collaboratively in a wide variety of settings. "At Fontbonne, we believe it's essential to provide a variety of clinical experiences for our students because the scope of practice for the speech-language pathology profession is very broad," said Dr. Gale Rice, professor and dean of the college of education and allied health professions. "The new Speech and Language Clinic will permit students to gain essential experience working with many different patients, which enables them to acquire a wide range of skills while providing quality care under the supervision of experienced faculty supervisors."
Fontbonne has been providing speech, language and hearing services in St. Louis for more than 50 years. Opening its free university clinic in Kansas City allows the university to administer care to more individuals with communication disorders while also giving additional students the opportunity to obtain a master's degree in speech-language pathology from Fontbonne.
"With nationally recognized faculty, alumni who are major contributors in the field, and a history of earning more than $15 million in federal grants, we typically receive more applications than we are able to accept due only to a lack of capacity," Dr. Rice said. "Expanding to Kansas City ensures more qualified students are able to receive a Fontbonne education."
Perspective students interested in the graduate program should contact Assistant Director of Admissions Lauren Cuddy at  fbyou@fontbonne.edu. More information about the Speech and Language Clinic as well as applications for child and adult evaluations is available online.