Hannah Ehret is an Alumni, Former Faculty, Artist, and recent Gallery Owner! She received her BFA and MA from Fontbonne. After Hannah concluded her time with here in 2020, she moved back to her home state of Pennsylvania.
We sat down with her to talk about her time at Fontbonne as well as her new venture.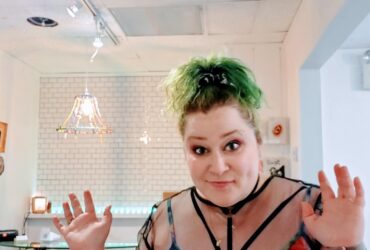 Why did you choose Fontbonne? 
Fontbonne chose ME!
I chose Fontbonne out of a lot of luck and a huge desire to start following my dreams. I was working at a Credit Union as a Loan Officer/Teller and realized how I needed to follow a career path that spoke to my soul. I put in my 2 weeks and started looking for schools. Having recently moved from Pennsylvania to St. Louis, I didn't know anything about local Universities and found it hard to find the right spot. Fontbonne fell on my lap. After visiting campus, I fell in love – mostly with the castle they call Ryan Hall. I started in August and found out I was pregnant in October. My teachers and fellow classmates supported my journey into this next chapter as well as my art. Vance was born in May 2017. We had some amazing friends at Fontbonne who were always willing to spend time with him on campus or for a few hours on a weekend.
How did you choose your major/course of studies? 
I started Fontbonne as a sculpture major, but ultimately decided to revisit my love for Art History and Ceramics.
I chose art (in the general sense) after my dad died. During my first year of college at Philadelphia University (as a marketing major), my dad died on Christmas Eve. I returned to school the next semester to finish the year. I thought a lot about regrets and living life in an authentic way. It was then that I promised myself, I'd do what I loved because nothing else is worth the trouble. I transferred to Harrisburg Area Community College where I fell in love so deeply with art. I was also able to travel to China to study ceramics, work in both school's galleries, and build a foundation of my love for art history. I am now and have always been an artist, following in the footsteps of my parents.
What ways were you involved on campus? Why did you choose to become involved?  
I started off as the Administrative Assistant for the art department after finishing my BFA. This role was mainly budget maintenance and assisting the faculty. That quickly grew into other duties on campus and in the department. By the time I left, I was the Administrative Assistant for the Fine Arts Department, the Assistant Gallery Director, and an Adjunct Professor of Art.
In the gallery, I did all the "behind the scenes" functions including budget maintenance, marketing, graphic design, event planning, and coordinating/gathering students' information for thesis exhibitions. As an instructor, I taught Art Appreciation virtually at the very beginning and throughout the pandemic.
Tell us about your gallery! What inspired this venture?  
I have always talked about being an entrepreneur. My father owned his own business for 20 years, and my cousins both had and have successful businesses in Maine. The dream of my own place evolved from a cafe with art to an art gallery. I loved art and needed to be surrounded and engulfed in it.
Living in Missouri with NO family it was really difficult for us with a little one. Although I had so much support from my Fontbonne Family, the ability to open my own business while raising my son here was really just impossible.
During the pandemic, my husband and I made the decision to move back to Pennsylvania where our families live. Moving back home not only ensured that Vance (my son) could spend time with family more often, but also provided the support that was needed for me to start my career.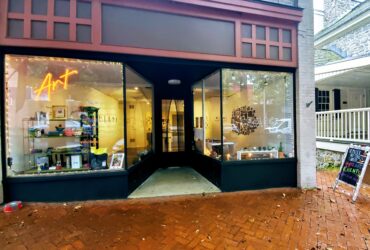 As soon as we moved, I started my business plan and did LOTS of research. 6 months later, here I am! Hemlock Art Space & Gallery was born! I opened my doors on July 10, 2021, and have had two exhibitions with the next one right around the corner. My first show was Elizabeth Sheck-Lambert who is an FBU Alum. I offer events like "Drink & Draw," Film & Art, small fine art workshops, art appreciation, and gallery etiquette, music, poetry readings, and Yoga/Meditation in the gallery. Along with the main gallery I also have a small retail/consignment area where I sell work from all-female artists and emerging artists.
Our mission is "to highlight the work of artists of color, female artists, LGBTQIA artists as well as emerging and "outsider" artists."  I keep the website up to date with events and what's happening in the gallery. Best way to support me from afar is to "like" and "share" my posts on IG and FB and let your friends know about the space.
E-mail: hemlockartspace@gmail.com
Address: 9 N 2nd St. Easton, PA 18042