Mar. 8, 2017 — The Fontbonne University community held a rally today to show support for its immigrant and non-immigrant international population.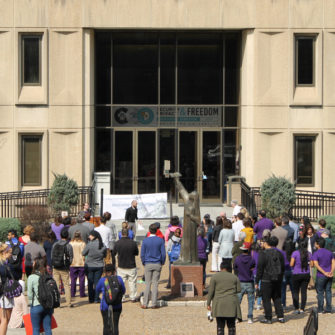 Sponsored by the university's Peace and Justice Committee, the rally gave voice to students, faculty and staff who hail from countries across the globe. Participants were asked to share their immigrant stories to promote understanding within the community.
"The Fontbonne community is very close-knit to begin with, and we wanted to create a very open, welcoming and public forum where our international brothers and sisters could feel our shared support," said Jessica Hylton, assistant director of international advising at Fontbonne. "We feel this was a wonderful moment of solidarity and understanding."
The rally was held outside in the Eleanor Halloran Ferry Plaza. Dozens of participants and supporters enjoyed remarks from students, alumni, staff and faculty.