The holiday favorite All is Calm: The Christmas Truce of 1914 will return to the Mustard Seed Theatre stage in the company's 12th Season. Continuing to uphold its mission to produce high quality professional plays that explore themes of faith and social justice, Mustard Seed will open the season with a "mature-audiences only" production of The Last Days of Judas Iscariot by Stephen Adly Guirgis, followed by the family friendly All is Calm. The Spring will feature two dark comedies: Well, by Lisa Kron and Death Tax by Lucas Hnath.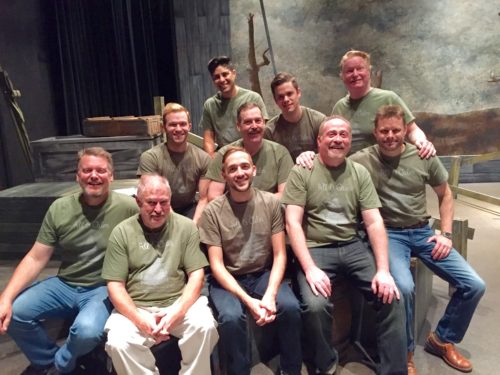 The 2016 cast of "All Is Calm"
Mustard Seed Theatre also announces it will be the first professional theatre in St. Louis to offer Hearing Loop Technology to its patrons who are hard of hearing. The assistive listening technology will allow patrons with varying audio deficiencies to better hear the productions. Generously sponsored by the Fontbonne Community Connection and Loop the Lou, patrons now have even more accessible ways to enjoy theatre at Fontbonne University's Black Box Theatre.
The Last Days of Judas Iscariot
by Stephen Adly Guirgis
Directed by Adam Flores; Resident Artist
October 10th-28th, 2018
*no Friday performances
In this irreverent exploration of the afterlife of Judas Iscariot, will sin or grief or grace prevail? This brutal dark comedy puts love and justice on trial.
*Adult language and situations, not appropriate for children
All Is Calm: The Christmas Truce of 1914
by Peter Rothstein
Directed by Deanna Jent, Artistic Director
November 15th – December 16th, 2018
Joyous and heart-breaking, this acapella musical tells the stories of soldiers who defied their commanders with a night of peace in the battlefield. Don't miss this award-winning production.
Well
by Lisa Kron
Directed by Deanna Jent, Artistic Director
March 1st – March 17th, 2019
Lisa's experimental play intends to explore racial and religious integration and cultural concepts of health. She does NOT want to talk about her Mother, who unexpectedly joins her on stage. What could possibly go wrong?
Death Tax
by Lucas Hnath
Directed by Bess Moynihan, Executive Director
May 9th – 19th, 2019
As Maxine nears the end of her life she is certain of three things: Death, Taxes and the Greed of her daughter who wants her to die quickly. A desperate nurse vows to keep her alive, but at what cost? Darkly comic, the play explores morality and forgiveness.
—-
Season Subscriptions go on sale April 16, 2018 and include two free Fontbonne University Performing Arts Department Productions:
Edges
by Pasek and Paul
Directed by Adam Flores
January 31st – February 3rd, 2019
From Pasek and Paul, the musical genius behind Dogfight, Dear Evan Hansen, The Greatest Showman, and La La Land, comes a thrilling song-cycle about coming of age in these fast moving times.
The Real Inspector Hound
by Tom Stoppard
Directed by Deanna Jent
April 11th-14th, 2019
It's a typical night at the theatre for critics Moon and Birdboot until they're pulled into an onstage murder mystery. Filled with plot twists, this comedy will keep you guessing until the final moment.
—–
Subscriptions are $120, General Admission; $100, Seniors
Mustard Seed also introduces the "Swap One" option. If a particular Mustard Seed title does not suit a patron's taste, they may swap one of their tickets to double up on another MST show.
For ticket and subscription purchases
Contact Metrotix at 314-534-1111
or visit:
www.mustardseedtheatre.com