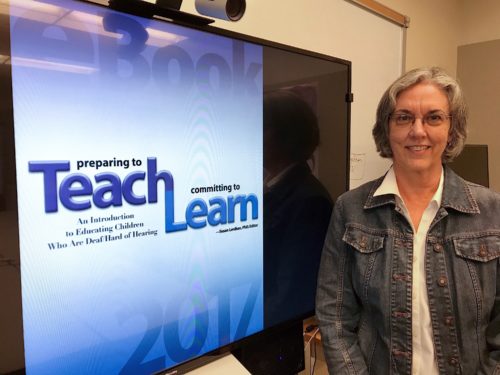 Dr. Susan Lenihan, professor and director of deaf education at Fontbonne University, has edited a new e-book, featuring the writing of top academics and practitioners in the field of deaf education. "Preparing to Teach, Committing to Learn: An Introduction to Educating Children Who Are Deaf/Hard of Hearing" was a passion project Lenihan completed during a recent sabbatical.
The book was specifically released through a free, digital medium, which reduces socioeconomic and geographic barriers to information acquisition and assists in the delivery of evidence-based strategies across a variety of settings and regions.
"I think in the world of deaf education, we're all about access," Lenihan said. "That includes access to communication, access to the curriculum, access to jobs, and access to living life as an empowered person, whether you use sign language or spoken language. And that can't happen unless professionals get access to the content and then to the resources."
Through its collaborative design, "Preparing to Teach, Committing to Learn" draws from a wide range of perspectives to delve into the historical background of listening and spoken language programs and shares the contemporary tenets and evidence-based strategies of the field.
"There exists a huge need for teachers who are able to work collaboratively with speech-language pathologists, audiologists and other education professionals," Lenihan said. "There is not enough awareness about what deaf education is like today. Eighty-seven percent of children who are deaf are educated in their local public school. How are we instructing teachers to provide the support they need? Or children who receive early intervention? Or children with multiple disabilities? This e-book is a way to get those hot topics out there and to start the discussion."
Learn more about studying communication disorders and deaf education at Fontbonne.
Save