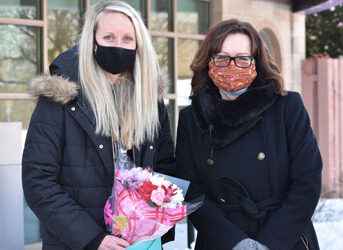 Erin Hemme, a teacher of the deaf and hard of hearing (DHH) at Ladue Early Childhood Center, was recently named the Special School District (SSD) 2021 Teacher of the Year for her dedication to student learning, collaboration with families and coworkers, and ability to help students make great strides in their education.
Hemme, who has primarily worked with preschool-aged DHH students for 15 years, graduated from Fontbonne with bachelor's degrees in early childhood education and elementary education in 2004 and currently serves as a cooperating teacher for the university. We sat down with Hemme to learn more about her career as an educator and her experience at Fontbonne.
What was your reaction when you found out you earned SSD's 2021 Teacher of the Year?
On Feb. 19, I was in my classroom when an announcement came over the loudspeaker saying a parent was outside the building waiting to meet with me. I was really confused when I went out front and saw the SSD superintendent, administrators, several staff members and my family all holding balloons. It took a few seconds before I was able to process what was going on, but I was so surprised and honored to find out I had become SSD's Teacher of the Year. That moment of recognition will stick with me for some time.
How is the Teacher of the Year selected at SSD?
First, your colleagues must nominate you for the Keys to the Classroom Award, which honors SSD's top teachers for creative approaches to student learning, innovative programming and commitment to student success. In January, I found out that I was one of 10 teachers out of more than 2,700 to be chosen for the award. From there, the 10 Keys to the Classroom Award winners are invited to an interview with SSD faculty and staff, and then those individuals pick one Teacher of the Year.
To be selected out of the 2,700 teachers who work so hard for students and the district means so much to me. I never thought that out of all of these wonderful educators, I would receive this honor.
What do you think makes you a great teacher?
One of my mentors taught me the most important lesson of my career: Be present, non-judgmental and selfless. There are many distractions in our lives, but our students come to us ready to learn every day, so it is important to be present for them. Being non-judgmental means understanding that everyone is different, and taking that into account when teaching. It's also essential to be selfless by giving everything you have to your students and their families.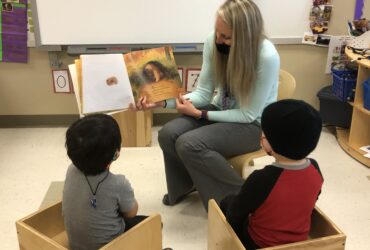 What inspired you to teach DHH students?
Ever since I was 9, I knew I wanted to be a teacher. I was inspired by my mom, who taught and served as principal of Central Institute for the Deaf (CID). On weekends when some students couldn't travel back home to see their families, my mom would open her home to them. I'd hang out with them, and some became my closest friends. As I grew older, I started volunteering to teach at CID, and that's when I realized I wanted to dedicate my career to teaching DHH students.
Tell me about your experience as a student at Fontbonne.
I knew I wanted to go to school close to home in St. Louis. Fontbonne's small class sizes and intimate learning experiences were exactly what I was looking for. Most of my professors were currently in or had worked in education and could share their experiences with us. It was obvious they cared about every one of their students and wanted us to succeed.
You're currently involved with Fontbonne as a cooperating teacher. What does that entail?
I've worked with students in Fontbonne's bachelor's degree in deaf education program and early intervention in deaf education graduate program. They have done their required observation hours in my classes and completed student teaching as well.
Fontbonne's programs are very organized, and students always come to me with lots of knowledge, which gives them a great jumping off point when they get to the classroom. I love giving Fontbonne students the opportunity to apply what they have learned and gain relevant, real-world experiences.
Why would you recommend Fontbonne's communication disorders and deaf education programs to students?
First, St. Louis is a hub for deaf education with several schools for DHH students. The courses and the practicum experiences that include observation hours and student teaching is as good as it gets. The communication disorders and deaf education programs have grown so quickly since I started working with Fontbonne, and there's a reason for that.