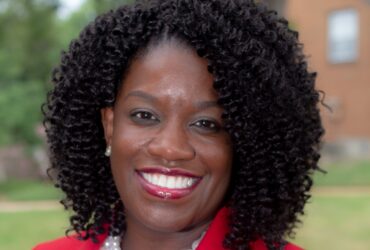 Fontbonne University alumna Jeanice Baker was named chief financial officer of Explore St. Louis, the marketing organization responsible for promoting St. Louis and St. Louis County as a convention, meeting and leisure destination and operating the America's Center Convention Complex. Most recently a finance lead-controller at Bayer for 14 years, Jeanice also held previous leadership positions at Save A Lot and Charter Communications.
We recently sat down with Jeanice to learn more about her new role, how her Fontbonne experience prepared her for a successful career in business, and her current involvement with the university as part of the Council of Regents.
Q: What interested you in becoming CFO of Explore St. Louis?
A: When I started out in my accounting career, I always dreamed of becoming a controller or CFO. This role was particularly enticing because I was born and raised in St. Louis, and it would give me a way to play a bigger role in advancing the community. I felt the position was where my passion and purpose intersected.
Q: Why are you excited to be in this role?
A: I believe St. Louis is a hidden gem, and I want to help showcase all the wonderful things this community has to offer. It's an exciting time to be a part of Explore St. Louis with the planned expansion and enhancements of America's Center and a variety of new investments in tourism infrastructure throughout the region.
Q: Tell me about your experience as an undergraduate student at Fontbonne.
A: After graduating from Central Visual and Performing Arts High School, I decided to get my associate's degree from St. Louis Community College. I knew I wanted to continue my education in business, so I started looking for a four-year university that offered a bachelor's degree in accounting. For me, Fontbonne checked all of the boxes. It was intimate with small class sizes that gave me an opportunity to connect with my peers and professors who went above and beyond for their students.
Q: You also chose Fontbonne for your MBA. What was that like?
A: The classes I took at Fontbonne for my MBA helped me understand the working world and what to expect in my career. One class required us to complete an internship. My professor helped me find one at Systems Consultants, Inc., which actually offered me my first full-time position after I graduated. That's just one example of how much Fontbonne faculty and staff invest in student success.
Q: You also serve on Fontbonne's Council of Regents. Why did you decide to stay involved with the university after graduation?
A: I wanted to help the community get to know Fontbonne. As a member of the Council of Regents, I'm able to introduce students and companies to the university. For example, when I was at Bayer, we helped develop Fontbonne's cybersecurity program and provided funding for the free Girls in Science summer camp.
The council also had a mentoring program focused on professional development that I was able to be a part of. I helped my mentee navigate her time at Fontbonne, and when it came time for her to look for internships, I helped connect her to one that led to a job she's really happy with. My professors helped me land my first position. It meant a lot to me to be able to return the favor and give back.
Q: You discussed how Fontbonne prepared you for your career. How did it shape you as a person?
A: I was a mom when I came to Fontbonne. The university's supportive environment and dedicated faculty and staff enabled me to learn and be a mom, which helped me fall in love with education. I'm a lifelong learner, and I have Fontbonne to thank. If you want to build lifelong relationships and get a great education, Fontbonne is your place.