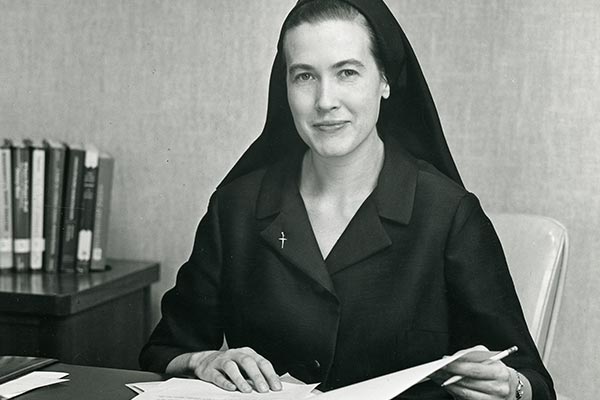 Sister Roberta Schmidt, CSJ former professor and president of Fontbonne University passed away on January 2, 2019. Sr. Roberta taught sociology at Fontbonne before moving on to becoming president from 1966 – 1972.
When asked in an interview what she most wanted to be remembered for as president, Sister Roberta said,  "Maintaining a Catholic identity at Fontbonne, attracting and keeping quality faculty, supporting a Catholic philosophy of education and building on existing strength."
We entrust Sister Roberta Schmidt to your undying love now and forever. May she be granted eternal life with you and may your light shine upon her. May she and all those who have returned to you, rest in you gentleness and peace. Amen
Funeral arrangements for Sr. Roberta
Mon., Jan. 7 – Memorial service at Carondelet's Holy Family Chapel, 11:45 a.m.*
Fri., Jan. 11 – Funeral liturgy at Nazareth Living Center, 10:30 a.m.
*A memorial service takes place any time a CSJ or Associate dies. All members of the Fontbonne community are welcome to attend. The service is not a Mass and lasts about 20 minutes.