While many students choose to attend Fontbonne University because the close-knit campus community makes everyone feel like family, several have had the unique opportunity to share their college experience with their siblings.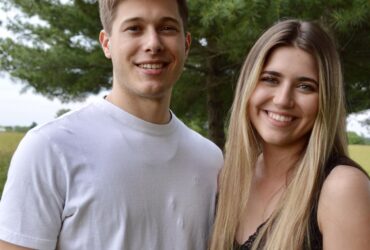 Jonathan and Alaina Hotop
For Jonathan and Alaina Hotop, their Fontbonne journey began with a recommendation from their older sister Isabel, who graduated in 2018 with a bachelor's degree in speech-language pathology and then went on to earn a master's degree in speech-language pathology in 2020.
During his senior year in high school, Jonathan, now a junior majoring in computer science, wanted to learn more about Fontbonne after a visit from an admission counselor, so Isabel gave him a personal tour.
"I was very interested in Fontbonne, and after talking to Isabel, she showed me around campus," Jonathan said. "She had an extremely positive experience, and hearing about it influenced my decision."
When it came time for Alaina to choose a college, both Isabel and Jonathan encouraged her to consider Fontbonne.
"Coming from a small, private Catholic high school, Fontbonne provided an excellent transition from high school to college for me, and I knew it would do the same for Alaina," Jonathan said.
An incoming freshman who plans to study psychology, Alaina will follow in Isabel's footsteps by playing on Fontbonne's softball team.
"I'm very excited because my sister has always spoken of her experience playing softball with so much happiness," Alaina said. "Although both of my siblings held some sway when I was making my college decision, it was ultimately up to me, and I wanted to choose a place that felt comfortable and familiar."
Kate and Clare Kavanaugh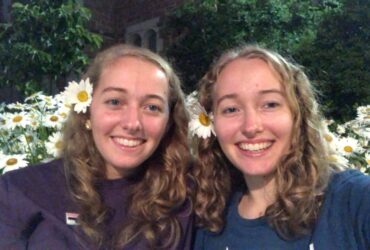 As identical twins, Kate and Clare Kavanaugh always knew they wanted to attend the same university.
"Going to college together is something we've talked about since we were little," said Clare, a senior. "College is such a challenging experience, and it has helped to have my best friend with me."
One of the reasons Kate and Clare decided to attend Fontbonne is because of its small campus.
"There are incredible opportunities here that I most likely would not have been able to experience if I had attended a larger school," Clare said. "I was able serve as president of Students for Life, was a Campus Ministry leader, and got to help with the Girls in Science summer program."
Because they both majored in biology, Kate and Clare were able to take many of the same classes.
"It was fun to see Clare grow throughout college alongside me," said Kate, who graduated in 2021. "It was always funny when people would get us mixed up, too. I cannot tell you how many times I've had professors or classmates come up to me thinking I'm Clare. It's hilarious to see their faces when I tell them we're twins."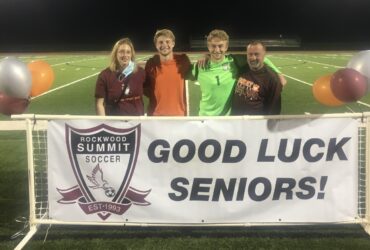 Dyllan and Dominic Haggard
As a senior, Dyllan Haggard has been playing soccer for Fontbonne for three years. For his fourth and final year on the team, his brother Dominic, a freshman, will join him.
"If anyone knows the Haggards, they know soccer is our family's lifestyle," said Dyllan, a computer science major. "Coming off a successful season last year, I'm ready to take the field each day with Dominic in the fall, whether it be in training or games."
Dyllan recommended Fontbonne to Dominic because he believes it is a campus where student athletes can thrive on and off the field.
"My brother was looking to continue playing soccer while also maintaining a rewarding academic education with tons of resources available to help him achieve that," Dyllan said. "I knew that with the current faculty and staff at Fontbonne, my brother was bound for success."
Dominic, who plans to major in nursing, is looking forward to his first semester at Fontbonne.
"Sharing my college experience with my brother is going to be the most important thing because I never got to play soccer with him in high school, and now I will be able to at Fontbonne," Dominic said.
Marisa and Mia Phegley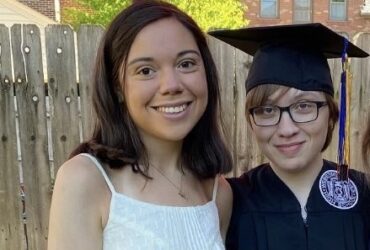 This fall, Marisa and Mia Phegley will both be new to Fontbonne. Marisa is a junior transferring from St. Louis Community College, and Mia will be a freshman.
"I feel I'm making a big step in my college career," Marisa said. "I'm excited to experience in-person classes again, especially in a new school environment."
Marisa chose Fontbonne because of its nationally recognized deaf education program. Mia will be pursuing her bachelor's degree in computer science in Fontbonne's ABET-accredited program.
"We're not going to be side by side in class, but in life outside class, I'll be really grateful to have my family there for me, especially my sister," Mia said.
Marisa is also excited to attend the same university as Mia.
"We commuted to high school together, and depending on our schedules next semester, we may be able to do that again," Marisa said. "I'm already close with my sister, but I think going to the same school as her again will strengthen our relationship."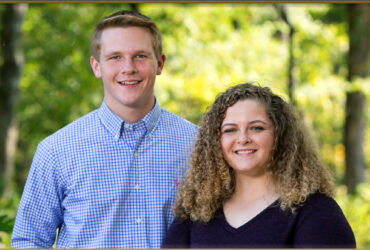 Matthew and Maddie Manint
Although they have attended two different universities for the last three years, Matthew and Maddie Manint will graduate from Fontbonne together in 2022.
Previously a student at Maryville University, Maddie decided to transfer to Fontbonne for its accredited social work program. Matthew chose to attend Fontbonne after he graduated from high school.
"In addition to being able to continue playing baseball, I chose Fontbonne because of the smaller class sizes so I'm able to ask questions during lectures and my professors know me on a personal level," Matthew said.
Maddie is excited to conclude her college career with her brother.
"I'm very excited to get to share the rest of my college experience with Matthew," Maddie said. "I know that if I ever need help around campus, I can always go to him."
Matthew is eager for Maddie to take advantage of the opportunities that he has enjoyed at Fontbonne.
"I'm looking forward to having Maddie on campus next year and seeing her experience some of the things I've experienced for the past few years," Matthew said. "It's really special being able to share my last year with her just like we did back in high school."
Grace and Anna Reavis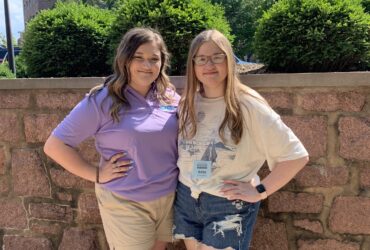 As a senior and a WING leader, Grace Reavis will have the opportunity to help her sister Anna, a freshman, make the transition from high school to college.
"Words cannot even describe how excited I am to have Anna join me on campus this fall," said Grace, a speech-language pathology major. "It is so surreal because Anna will be experiencing all her 'firsts,' and I will be going through all of my 'lasts.' I cannot wait to make memories with her and watch her succeed at Fontbonne."
For Anna, who plans to study early childhood education, several factors influenced her decision to attend Fontbonne.
"I chose Fontbonne because of the small size of the campus, the student to faculty ratio, the great location with a lot of fun things to do around campus, and Grace's positive experience," Anna said.
Anna feels prepared for the fall semester knowing her sister will be by her side.
"Coming from a close family, it means a lot to have my sister with me at college," Anna said. "As I take this next step furthering my education, it is comforting to know that while I am becoming more independent, Grace will be with me if I ever need anything."