Karina Arango had to embrace her own story before she could help students like her do the same.
by Elizabeth Hise Brennan | Fontbonne Magazine, Spring 2018
More than 7,500 immigrants and refugees from 80 different countries annually receive services from the International Institute St. Louis, a welcoming center for new Americans. Of the immigrants who arrive in St. Louis each year, many leave war, violence or poverty behind. Some are documented residents of their new home, some undocumented, adding an additional layer of complexity, fear and stigma. All must assimilate to a new way of life, often utterly different than the one they left behind. Simple tasks, like buying milk and bread, become enormous hurdles when you don't understand the language, the currency or the public transportation system. Education — learning within an English-language school system — becomes even harder.
The immigration debate in the United States has become a heated one, and talk of walls and bans has become commonplace. For the Sisters of St. Joseph, Fontbonne's founders and sponsors, serving the dear neighbor — whoever that is, wherever she's from — is far less complicated, however, than the legislative debates churning around us. With a nod to the sisters, one Fontbonne alumna, driven in part by her Fontbonne education, has made St. Louis' immigrant population her priority.
Karina Arango was featured in "Show Me Democracy," a documentary released in 2017 about college students becoming activists and advocates in St. Louis in the wake of Michael Brown's death. www.ShowMeDemocracy.com
Karina Arango transferred to Fontbonne during her sophomore year. She was raised by a single mother, who risked her life to travel from Mexico to the United States alone and spent many years undocumented, working to support herself and her children. Arango would become the first in her family to graduate from college upon her Fontbonne commencement in the spring of 2015. She knows what it's like to be the only person in a room who looks like her and has a story like hers, but instead of allowing her differences to weigh her down, she uses them to propel herself — and others — forward.
"I've always been one of the few Latinos in any given space," she said. "When I was young, I shied away from some of the things I represented, including my culture and my language. When I came to Fontbonne, it was a shock to be here [in a mostly white environment]. After I started working in student affairs and began to make friends, I realized that what made me different from my peers is what gave me confidence in who I am."
For three years, Arango held a work study job in Fontbonne's student affairs office. Dr. Leslie Doyle, Fontbonne's director of service, diversity and social justice, took notice of the student sitting at the front desk.
"She was quiet, reserved and observant, and you knew there was depth there she just needed to tap into," Doyle said.
Fontbonne's inclusive, supportive community, including the student affairs team and the department of English and communication, where Arango spent much of her time as a communications studies major, helped shape and mature her. In 2014, she began an internship as an education policy intern with the Scholarship Foundation of St. Louis, a nonprofit that helps make post-secondary education accessible to those students who might not otherwise be able to afford it. There, Arango learned how to confidently tell her own story in order to shape legislative policy and effect change in the lives of students like herself.
"I think the Scholarship Foundation was really pivotal to her finding her voice and using it to advocate for others," Doyle said. "That experience coincided with her personal experiences, and this connection allowed her to really shine around action and advocacy."
Arango recognizes her time at Fontbonne and at the Scholarship Foundation as a turning point, a culmination of life experience, compassionate guidance and self-actualization.
"Embracing myself and embracing my story really happened on campus," Arango said. "This has defined and streamlined what I want to do."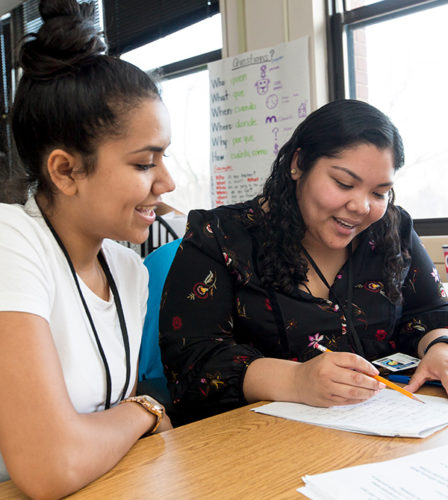 Fully claiming her identity as an advocate, Arango, after graduation, began working as a teacher's aide at the International Welcome Center in Ritenour School District in Northwest St. Louis County. Ritenour is one of the oldest districts in the area, and according to Arango, it is also one of the most diverse. A St. Louis Post-Dispatch article attributes recent shifts in the area's population to the proximity of Lambert International Airport, as well as housing patterns. In 2015, leaders in the district recognized that the influx of immigrant students revealed a significant educational need, and so they founded the International Welcome Center.
"The center was created for students who have recently arrived in this country who need help — and their families need help — acclimating to the culture, to the language, to the American school system," Arango explained.
Each day, she collaborates with a classroom teacher to assist high schoolers, many from Central America who speak Spanish as their primary language. These students have journeyed far to reach their families in St. Louis, and often, they've had significant gaps in their education.
"These students are having an identity crisis," Arango said. "As a young person, you leave everything behind to come to a new country; you're making a lot of sacrifice. They're pushing and they're passionate because of their family. And I get it. I know what that feels like."
Arango uses that empathy to drive her as a teacher, an ally, a friend and an advocate. She and her colleagues at the Welcome Center work not just with students, but with their families, helping them find the resources they need to learn, grow and make a life for themselves in St. Louis. And all of Arango's experiences — personal, educational, professional — have led her to this point. She is proud to tell her own story and often speaks out in interviews with newspapers, television stations and even documentary filmmakers.
"I have not only an obligation but a responsibility to let my story be heard and to listen to others, especially if they have stories that don't get told enough."