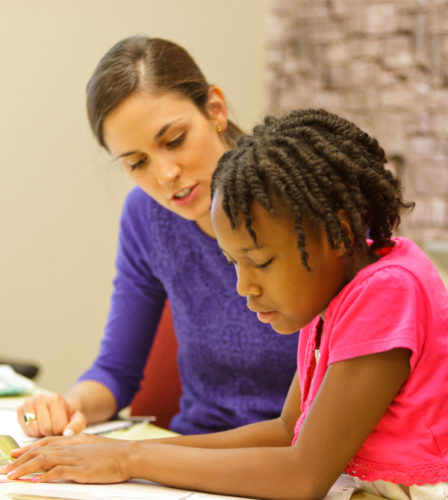 Fontbonne University has received a $1.25 million grant (H325K170008) from the U.S. Department of Education's Office of Special Education Programs to fund 40 graduate students studying deaf education or speech-language pathology. The funded project, a six-semester program, will increase the number of teachers of the deaf and speech-language pathologists qualified to serve young children who are deaf/hard of hearing and their families through early intervention.
Fontbonne offers both a Master of Science in Speech-Language Pathology and a Master of Arts in Early Intervention in Deaf Education. Through the grant, students seeking either degree can apply for funding, and the project will prepare four cohorts of 10 students beginning their master's work each year through 2022.
"This grant will allow two already very successful graduate programs to prepare early interventionists and speech-language pathologists using an interprofessional model," said Dr. Gale Rice, professor and dean of the College of Education and Allied Health Professions. "The result will be practitioners who will maximize outcomes for young children who are deaf/hard of hearing and their families. This is an innovative change in professional preparation, which tends to occur in professional silos."
The grant provides accepted students tuition support for 23 hours of interdisciplinary coursework and field experiences focused on family-centered early intervention, speech/hearing language/literacy, infant/child development, and assessment. A post-graduation mentorship program will increase retention of knowledge and skills and offer continued professional development. Seventy-four percent of grant funding will be used for direct student support, with remaining dollars for institutional support.
"Through early intervention, teachers of the deaf and speech-language pathologists partner with families of children who are deaf or hard of hearing to offer support and service delivery based on family needs," said Dr. Jenna Voss, assistant professor of deaf education and grant mentor. "This includes both emotional and practical, ongoing support, offering critical information on hearing technology, communication options and strategies for promoting communication. This grant will allow us to provide the specialized preparation for scholars in these two disciplines so they are best prepared to serve young children and their families."
Applications for the speech-language pathology program are due Jan. 15, while applications for the deaf education program are due Feb. 1. Learn more or call 314-889-1407.
Learn more about this project.
Save
Save
Save