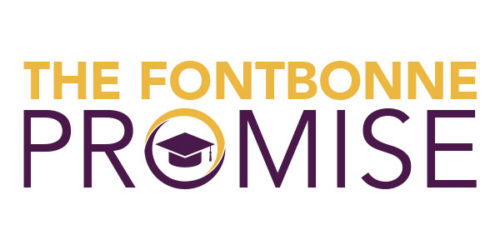 Fontbonne University has launched The Fontbonne Promise, a new program that makes the dream of a debt-free, private college education a reality for low-income students.
The Fontbonne Promise is a unique opportunity for first-time, first-year Missouri residents who meet Fontbonne's admission requirements and are calculated with an expected family contribution of zero on the Free Application for Federal Student Aid. The private university expects to award full tuition and fees for up to five years to at least 30 fall 2018 freshmen. Full-time undergraduate tuition and fees are currently $25,980 per academic year.
"We want to change the paradigm. The neediest students who demonstrate academic ability deserve an opportunity to earn a college degree," said Dr. J. Michael Pressimone, Fontbonne president. "We believe at Fontbonne we can play a significant role in changing communities through our strong foundation in values-based education. We recognize that many recipients of The Fontbonne Promise will be the first in their family to attend college. This is about providing access to education. By creating positive change in individual families, we are delivering on our promise to the community and the Sisters of St. Joseph of Carondelet, our founders, to serve the dear neighbor without distinction, something that benefits the entire St. Louis region."
Students with bachelor's degrees have higher salary attainment, career potential and life satisfaction. Additionally, graduates of smaller private colleges tend to be more civically-engaged than their peers. According to the Council of Independent Colleges, first-generation graduates of smaller private colleges are more likely to vote and volunteer time to their community than their peers from public universities.
"We believe Fontbonne is uniquely positioned to serve at-risk students because of our proven record of personal attention, student support and dynamic academic offerings," said Joseph Havis, vice president for enrollment. "We have an environment where students thrive, where they are pushed to find their personal potential. With our focus on mentoring, tutoring, financial literacy and student retention, we are confident that college will be a transformational experience for these students."
Students who qualify for The Fontbonne Promise will receive a financial aid award that covers full tuition and fees – loan free. Funding for this program will be made possible through a combination of state and federal aid, Fontbonne aid and donor partnerships.
"Donor partners will be assured that their funds reach the students most needing assistance and that these students will enjoy a personalized college experience in an intimate and familial environment," said Kitty Lohrum, Fontbonne vice president for advancement. "We're looking for community members and corporations who also believe that no deserving student should be left behind. Our Fontbonne Promise Partners serve the greater good of the entire St. Louis area. It's an investment in the future of our community."
Fontbonne Promise Partners will sponsor a student at $8,500 a year for up to five years, according to Lohrum. Additionally, donations of any amount toward this program will help build the pool needed to support deserving students in future years.
Do you qualify? Learn more and apply to Fontbonne.
Become a Fontbonne Promise Partner.
Save
Save
Save
Save
Save
Save
Save
Save
Save
Save
Save
Save
Save
Save
Save
Save